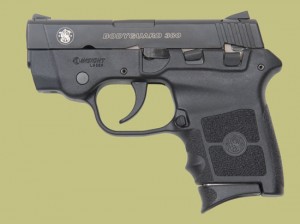 Bodyguard 380 Review
By Mark "Six" James
The Bodyguard 380 Review: A friend called me the other day and asked if I wouldn't mind taking a moment to write a review of the Smith and Wesson Bodyguard 380,.   As a protection specialist and firearms instructor, I chuckled and said, "Harlan you know I don't shoot starter pistols." He then replied, "You have never seen a handgun you didn't like to shoot."  I said, "You are right, give me a week and I will get back with you."
My everyday carry weapon is typically a compact or full size .45 ACP or 9 mm subcompact when I want to travel light.  I am not one to be sucked into the caliber wars as accuracy should always trump caliber size and in close quarter engagements it is often your tactics more so than the caliber size or marksmanship which will keep you alive.
However I am a proponent of a person carrying the largest caliber that they can shoot accurately.  A well trained operator will handle their business with any caliber you put in their hand, unfortunately most people are not well trained and handgun encounters are rarely one shot stops.
I had seen the "Bodyguard 380" advertised but had not taken the time to really look into it, as I had not historically been a big fan of pocket guns.
Although, I am a firm believer the situation should always dictate the tactics and the tools.  With that said there is a definite place for pocket guns.
Personally I think pocket guns function best as secondary and tertiary tools.  Most have poor sighting systems, undersized grips and are often underpowered.  Probably the biggest challenge I see with them is how they are often sold.