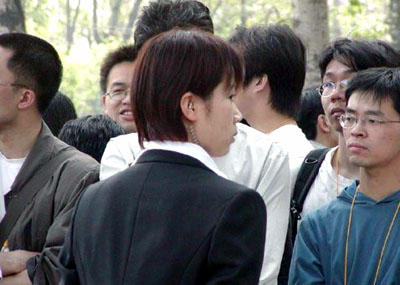 Source: Li Qian (Chinadaily.com.cn)
It's becoming increasingly common in China to see solidly built and solemn men surrounding public figures. Most likely, these people are personal bodyguards.
Most Chinese first learned about these kinds of men from vintage Hong Kong and Hollywood movies, such as Jet Li in "The Bodyguard from Beijing" and Kevin Costner in "The Bodyguard". In reality, though the chances of having a romance with a charming client are slim, the danger remains the same.
Zhe Meijie, a former bodyguard for State Council leaders and who now runs a senior security company, said sweat through his clothes because he was so nervous the first time he received a visiting foreign head of state at the airport, reported the China Youth Daily on Thursday.
When Palestinian leader Yasser Arafat visited Beijing in the early 90s, a sharp noise nearby put Zhe on high alert, and all bodyguards in the area were ready to use their guns. Fortunately the noise was later attributed to a car backfiring.
For fans, spending time with their idols would likely be a pleasant experience, but for bodyguards, a single second being with a public figure can be the difference between life and death.
Bodyguards are very often depicted as assistants of powerful gangsters in films, but they are not hired roughnecks.
Most bodyguards are former martial arts students or retired servicemen. According to Zhe, bodyguards need a high level of morality, loyalty, endurance, composure, sturdiness and looks. They also need junior college degrees, and must speak fluent English.
Chinese bodyguards are also equipped with sophisticated, Bond-like safety gadgets. Dark sunglasses are a necessity, but not just to look cool. "Sunglasses help my eyes adapt quickly to the light when I enter the room," Nan Zhu, former personal guard to film star Jackie Chan said.
China's first foreign police instructor Shi Zijian has a pair of boots that saved his life. Ten years ago when he was working in a jail in the United States, Shi subdued more than ten prisoners by kicking during a riot and after that refused to wear any other shoes while working.
 
The few female bodyguards in China have their own magic weapon. These "Charlie's Angels" always bring chocolate with them to give them an extra boost of strength and stamina.
Security guards, though large in number, have yet to be approved as a profession in China. There aren't specific regulations for bodyguard administration, so they are often legally employed as "secretaries", "personal drivers" or "assistants", and work on the fringes of the legal system.
But there is certainly a huge market for bodyguards in China, where there are presently 1,000 billionaires and 3,000,000 millionaires, many of whom are beginning to become aware of the need for personal security