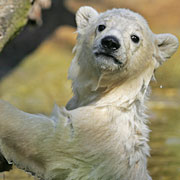 Ok I have been in this business for over twenty years, and this is a first. Yes there's a new type of client to add to the field. Polar bears.
Polar bear cub Knut has been given 15 personal bodyguards as fears for his safety grow.
Berlin Zoo has reviewed Knut's security requirements after the cuddly cub received a sinister hand-written death threat.
 
On the look out after a swimThe number of Knut's minders has been trebled and all have been equipped with walkie-talkies.
Dressed in orange bibs, the polar bear bodyguards will patrol the area around Knut's enclosure.
They are to monitor any suspicious behaviour amongst the hordes of fans who flock to see the little bear every day.

 
Berlin Zoo's business manager Gerald Uhlich reported the death threat to the police and said: "They told us prominent figures often have things like this happen."
Knut-mania is proving lucrative – meaning the polar bear's safety is a top priority for the zoo.
However, his popularity may not last much longer if a zoo in Bavaria has its way.
Competitors for Knut – brown bear triplets named Maja, Mette and Molly – have made their first public appearance at Poing Wild Life Park.
The park director said the little family was very special, and described their spacious, natural enclosure as "every bear's dream".
Source: Sky News