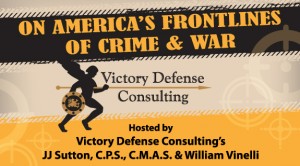 Radio Interviews: On America's Frontlines of Crime & War" found on Voice America which broadcast to over 130+ countries.
http://www.voiceamerica.com/episode/55725/fear-management-and-combatives-with-tony-blauer
In this episode of America's Frontlines of Crime & War Tony Blauer is interviewed . He has pioneered research & training methodologies that have influenced / inspired martial art & combative systems worldwide. He leads one of the world's leading consulting firms specializing in research & development of combative training & equipment. Mr. Blauer teaches key performance enhancement, fear management, and combatives based on S.P.E.A.R. System research since 1988. With over 20yrs professional consulting experience, Mr. Blauer is highly sought out by progressive trainers worldwide interested in advanced scenario work, CQC tactics, mind-set & confrontation management psychology. Mr. Blauer has consulted & designed programs for the UN Safety & Security Services as well as specialty groups like the Gulf Coast Violent Offenders Task Force. Mr. Blauer makes state-of-the-art equipment, designed with impact reduction technology that has changed how warriors prepare for close combat.
To listen to the show click: HERE