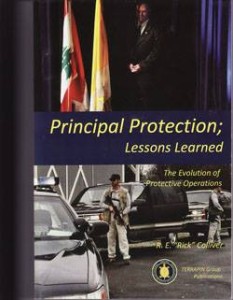 By Doc Rogers
Today's professional bodyguards (executive protection specialists) are a unique breed, whether performing assigned duties or planning career moves they are ambitious and demanding; but methodical in their approach. Principals expect orderly and professional behavior from their bodyguards and the operational techniques of the bodyguard are done according to a systematic and established form of procedure. Although most are experts in tactical shooting professional bodyguards are more likely to use intellect as a weapon rather than the firearm concealed under their business suit.
The protective methodology of the professional bodyguard is one of a 'problem solver' who avoids threats directed towards the principal at all costs. Bodyguards are known for their ability to discreetly protect their principals and return them home safely each night. If in the unlikely situation a sudden unexpected threat appears the bodyguard will instinctively shield the principal with his own body while evacuating the principal from the kill-zone; this is not only his jobs, but his duty.
This selfless sense of duty is only a small part of what takes to be a professional bodyguard. The biggest part of being a bodyguard is to perform your tasks with honor, integrity, trust and with confident performance for a successful assignment. If you don't have strict self-discipline, high standards, teamwork and determination, you might as well stay home. However, if you got what it takes now is the time to deliberately and selflessly move forward and push beyond your physical comfort zone to keep your team and principal safe; because that is the way of the bodyguard. Keep safe and God speed.
Check out Doc Rogers Author Page at: http://www.amazon.com/Christopher-Doc-Rogers/e/B00GHIT942