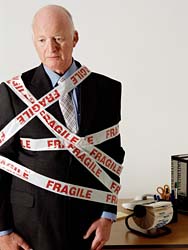 By Hucky Austin
Recently the following question was posed: "what is the age cut-off to for this type of work?  When is a person considered too old?"
Truth be told, it depends partly upon the assignment. Every job requires different skills from an EPS/Bodyguard. Surprisingly, many positions don't demand someone to be in top physical form, (although that is most often preferred) it is to a certain degree, an industry expectation. However, there is no industry standard that says you must lift X amount of pounds, or run a mile in X amount of time in order to do this type of work.
SIDE BAR: If you can't go up several flights of stairs without getting out of breath or can no longer bend over to tie your shoes, you might be in trouble with this type of career!
I continue to work out and stay strong. The thing is, I'm of an age where I just no longer want those celebrity details that keep me up all hours of the night at a club or in a recording studio. I'm strong and have a lot of stamina, but my MIND gets too bored with all that. And truthfully, I don't care to bench 350 lbs any more and spend so much of my life at the gym. I am more interested in the organizational and recruitment aspects of protective services now.
Certainly, to have the most opportunities, potential bodyguards need to be physically strong, quick and flexible. Also mentally bright, articulate, and an outstanding problem solver. The ability to handle firearms and shoot with accuracy is certainly a bonus. If you can speak other languages, then your opportunities (and salary) certainly go up from there. Lastly, if you have keen insights and experience with a foreign culture or military training, you are fortunate and certainly well-rounded and the most likely candidate to garner top jobs in terms of responsibility and pay.
The range of work and range of skills needed in this business are wide. The scope can start at the big burly front door guy and move into celebrity protection all the way to protecting foreign dignitaries and the like.
Age is not necessarily relevant in this line of work. Some of the best tactical skills and problem-solving skills come with age, and much is to be said about on-the-job experience. A physically fit body is not the only criteria for success. I will state however, that most individuals who want real longevity in this field are in excellent health, take good care of themselves physically and mentally and could pass physical fitness tests that the general public would most likely fail!
Hucky