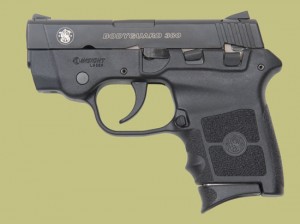 Bodyguard 380 Review
Bodyguard 380 By Mark "Six" James
Recently, I received an email from an individual seeking advice on purchasing a Bodyguard 380 pistol for his wife's personal protection use. He knew nothing about firearms but wanted something that would be easy-to-carry, and slim enough to slip into her handbag. I remembered in 2012 I reached out to my friend Mark "Six" James and asked him if he would write a review of the Smith & Wesson Bodyguard 380. I didn't know much about this particular pistol, so I thought it be best to have an expert weigh in on it. Below is his review.
A friend called me the other day and asked if I wouldn't mind taking a moment to write a review of the Smith & Wesson Bodyguard 380. As a protection specialist and firearms instructor, I chuckled and said, "Harlan you know I don't shoot starter pistols." He then replied, "You have never seen a handgun you didn't like to shoot."  I said, "You are right, give me a week and I will get back with you."
My everyday carry weapon is typically a compact or full size .45 ACP or 9 mm subcompact when I want to travel light.  I am not one to be sucked into the caliber wars as accuracy should always trump caliber size and in close quarter engagements, it is often your tactics more so than the caliber size or marksmanship which will keep you alive.
However, I am a proponent of a person carrying the largest caliber that they can shoot accurately.  A well-trained operator will handle their business with any caliber you put in their hand, unfortunately, most people are not well trained and handgun encounters are rarely one shot stops.
I had seen the "Bodyguard 380" advertised but had not taken the time to really look into it, as I had not historically been a big fan of pocket guns.
A Place for "Pocket Guns" like the Bodyguard 380
Although, I am a firm believer the situation should always dictate the tactics and the tools.  With that said there is a definite place for pocket guns.
Personally, I think pocket guns function best as secondary and tertiary tools.  Most have poor sighting systems, undersized grips and are often underpowered.  Probably the biggest challenge I see with them is how they are often sold. I see many people attempting to buy them as primary weapons for new shooters.  Many people are of the misconception that because they are small in both stature and caliber they will be easier to shoot and have less felt recoil.
Effective recoil management starts first with a good grip.  Since most people buy firearms and never get the proper professional training they often suffer from poor fundamentals be it improper grip or poor sight alignment.  Thus rarely learning how to master the tool.
Bodyguard 380 a Small Gun that Acts Like a Big Gun
When I went to my local gun shop and range today to take a closer look at the Bodyguard 380, I was pleasantly surprised to see a large number of big gun features built into this small package.
The Bodyguard 380 has a polymer frame with a stainless steel barrel and slide.  It is also equipped with a manual thumb safety, slide stop, external takedown lever and loaded chamber indicator.
It has useable raised stainless steel adjustable sights (dovetail cuts) and an integrated Insight laser sight on the vertical axis with ambidextrous laser controls (constant on, pulsating, off).   The laser features a battery saver cut off, which automatically shuts off after 5 minutes.
It is a double action only, hammer fired semi-automatic handgun. While the double action may help reduce accidental discharges, from the new shooters I polled some were uncomfortable with the long trigger pull. The trigger pull appears to be around 8 – 9 pounds.  However effectively managing a long double action trigger is something that a few more lessons can easily address.  It also features a steel guide rod.
The magazine for the bodyguard 380 has an extended finger tab on the bottom to make the grip more ergonomically pleasing.
The bodyguard 380 performed well on the range. The sighting system was effective and the recoil was what I expected out of a sub 3 inch barrel on a polymer frame. The weapon will also fire with the magazine removed.  The slide also locks back on an empty magazine.
Bodyguard 380 Not Good for Novices: Training Suggested
While I am not ready to make the bodyguard 380 my everyday carry weapon, I would move it to the front of the line for pocket pistols.  The $399 suggested retail is a good value for the features built into the handgun and explains why dealers are having a hard time keeping them on the shelf.
The bodyguard 380 is more than fit for duty as an ultra concealment or secondary tool. In my opinion it is not a starter handgun and functions best in the hands of an experienced shooter.
The lightweight, small frame, and short sight radius are not features that lend themselves to new or untrained shooters.  With the right operator or training the Bodyguard 380 can compliment your defensive capabilities.
In the hands of the untrained operator, it has the potential for a bad experience.
Bodyguard 380 Review
Model:         BODYGUARD® 380
Caliber:         .380 Auto
Capacity:         6+1 Rounds
Barrel Length:     2.75″ / 7.0 cm
Frame Size:         Compact
Action:         Double Action Only (Hammer Fired)
Front Sight:         Stainless Steel
Rear Sight:         Drift Adjustable
Grip:             Polymer
Overall Length:     5.25″ / 13.3 cm
Weight:         11.85 oz / 335.9 g
Frame Material:     Polymer
Material:         Stainless Steel w/Melonite® Finish
Finish: Matte     Black
Purpose: Personal Protection, Professional / Duty
Mark "Six" James is the Executive Director of Panther Protection Services a full service protection agency.
He is a firearms and combative instructor and internationally published author.  To find out more about Panther Protection Services visit www.pantherprotectionservices.com or www.facebook.com/pantherprotectionservices