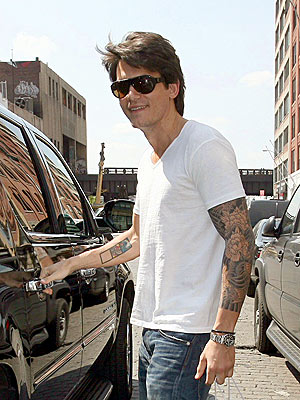 On Wednesday,November 19th 2008, Musician John Mayer's bodyguard crossed a line. Mayer was enjoying a night out on the town in Hollywood, dining at The Steakhouse, one of Wolfgang Puck's Beverly Hills eateries, when he decided to leave from the front entrance of the restaurant,rather than the planned exit out of the back of the establishment. Mayer and his bodyguard walked into a throng of paparazzi, all eager to snap pictures. Just as Mayer was ducking into his BMW, one photog was over-eager and Mayer's bodyguard pushed him to the ground, grabbing him by the throat according to onlookers. The photographer went to the Tarzana hospital to be checked for injuries, and is reportedly planning to contact his lawyers.
* * * * * * * * *
Here's another story to file under: What Were They Thinking?!
First of all, both Mayer and the bodyguard need to be held accountable.
Physical contact and altercations like this should not be happening, and a well-trained bodyguard knows better than to shove, and then worse, to grab an individual by the throat, once he's down!? These moves are aggressive and out of control. Why anybody would think this physical maneuver was acceptable is beyond me–and to make such an error in judgment in front of a crowd of paparazzi and fans? It just make Mayer look bad, and most certainly opens him up to a lawsuit.
Secondly, my guess is Mayer's bodyguard was not prepared for Mayer's sudden change in plans to leave The Steakhouse via the front entrance.
Surely, Mayer had to have known that leaving from the most public access point was fool-hardy and maybe just a little self-involved…or perhaps he was in some way impaired in his decision-making ability. It begs the question, "Did he WANT the attention?" Surely, his bodyguard advised him against exiting from the front of the restaurant. Well, if there is indeed a lawsuit, then I suspect the cost of that "attention" will be significantly more than he intended to pay.