To be successful in most fields you have to have some type of formalized or specialized education under your belt in order to teach you both the basic and advanced skills needed to succeed in a specific job. Whether that job is an auto mechanic, a draftsmen or accountant, those entering into the field of Executive Protection are also required to have some type of formal and advanced training.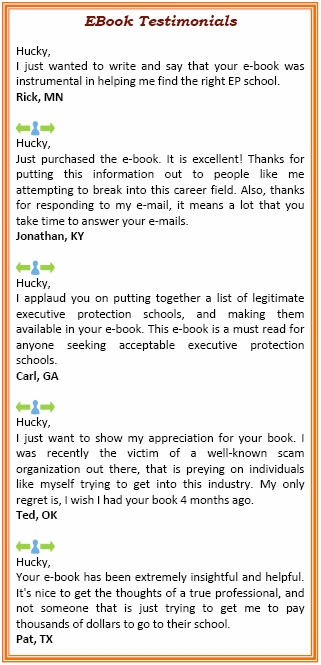 In many cases you will have an extremely hard time finding employment, either with a team or as an individual without a formalized education. It is also important to remember that as an Executive Protection Specialist you have to continue on your path for excellence. Just because you graduated from the ABC school of Executive Protection does not mean that your education is complete. It is imperative for you to constantly continue to learn; the old saying "knowledge is power" is true. The more bodyguard training you have the better off you will be and the more successful you will have in the EP industry.
It has been alarming to discover that many scam businesses and unscrupulous people are taking advantage of people who are eager to get into this field.
In the interest of providing our visitors with the best information available to succeed in this business, Bodyguard Careers has prepared the top Executive Protection Specialist school listings in response to this dishonest trend. Countless inquiries from individuals who have asked for basic information regarding education and training also contributed to it. Brief descriptions of each bodyguard schools are included. Please be sure to visit them to learn firsthand how they can be of help to you. I look forward to sharing in your success. I know you will find as I have, that you are on a career path that is both interesting and profitable.
Sincerely
Harlan (Hucky) Austin
It's Time to Invest in You! Buy our guide to the Top Executive Protection Schools for $9.95 Today!