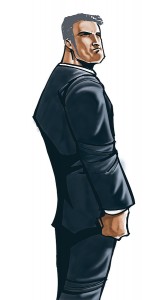 By Matt Stiehm
Threat assessment, is part of any executive protection specialists job, but if the threat is not overt how can someone best protect their client whether in private or public.  While working in the field the executive protect specialist needs to be aware of everything.  But one area that most people cannot protect or guard against is there verbal and  non-verbal clues of deception.
Now for this article deception is clearly defined as someone hiding some piece of information.  It is the specialist's job to determine what the person (target) is hiding.
In determining if someone is being truthful or deceptive the specialist needs to have a "baseline" of communication with the individual.  This baseline is common behaviors, or tendencies.  In the field you can pick up these tendencies rather quickly in a brief conversation with the target (potential threat).  In establishing the baseline just as simple as having "normal" chit-chat with the individual prior to asking "hard" questions, the hard question is the one in which the target could be deceptive.

Once you have established their baseline of behaviors, then it is easy to ask directed questions that might cause stress.  Stress and the targets reaction to the stress is key in observing the non-verbal signs of deception.
The stress and reactions is what you are looking for in their non-verbal behaviors.  Some of the simple ones are looking away, touching their hand to their face; there is also the look away and of course the in ability to answer the question smoothly.  Since you are all experts in dealing with people you understand human interaction, so if something is not normal it probably is a good idea to determine the veracity of the statements of the "target".
Understanding signs of deception is a rather new science or field of study, and it always s changing.  I would suggest in attending a Stan B. Walters training session (if possible) or a W-Z, John G. Reid interview and interrogation school.  These schools have a modest price of between 400-600 dollars. However the ROI that you get will greatly increase your marketability.
For additional information I would suggest the following website
•    http://thelieguy.com/
•    http://www.blifaloo.com/info/lies.php
•    http://www.truthaboutdeception.com/lying-and-deception/detecting-deception/nonverbal-cues.html
•    http://www.lsiscan.com/
•    www.w-z.com
•    www.reid.com