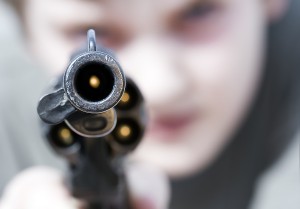 By Mark "Six" James
Today, while at the range, I watched a young man in the lane next to me fire 7 shots in rapid succession at a target 8 yards away and missed with all 7 shots.  I asked him what were you focused on, he replied "I don't know I was just shooting at the target."  He was proof positive, "only hits count, you can't miss fast enough to catch up!"
As firearms instructor, this is an all too familiar occurrence.  Many people go to the range and just fire, fire, fire with little to no focus on situational replication.  Ask yourself when you go to the range what are you practicing on?
•    Close quarter encounter – if so your focus should be on movement and combat accuracy, front sight/press or squeeze and the ability to place multiple hits on an 8.5 x 11 sheet of paper in the high center mass area.
•    Hostage Rescue – your focus will require surgical precision as you are attempting to neutralize the threat with a precisely placed shot.  Obviously accuracy and marksmanship fundamentals are at a premium.  This should be a one shot neutralization or your hostage will probably be killed or severely injured by the perpetrator.
•    Longer distance shot – because of the increased distance you may have a hair longer to take the shot and the rear sight should be brought into play to enhance your accuracy.
•    Are you practicing on effectively using cover – will your shooting platform match your available cover?  Did you transition the weapon into the correct hand, which allowed you to keep the majority of your body behind the cover?
•    Are you practicing for low light conditions – are you practicing firing while holding a flashlight.  Depending on your flashlight handling techniques can you effectively hold the angle of the light consistent with where you want to break the round?
Have you practiced illuminating the ceiling to quickly light the whole room while your eyes and muzzle stayed threat focused?  Although you may be one of the lucky ones where all of your fight situations happen under ideal lighting conditions.
What you often see from firearms novices are lots of shots down range, a lot of dollars spent on ammo and targets that often look like Swiss cheese and no discernible improvement in skill development.   For those serious about enhancing their firearm fighting skills most will benefit by modifying their practice routines.
Basic Weapons Control
Basic operating or weapons manipulations should be executed with minimal to no conscious thought process in making your tool fight ready and handling basic weapons operations.
You will never be able to transition to threat focused training and fighting if you are not unconsciously competent in your handgun operating basics.
•    Safety (manual and/or grip) – this is an operating skill.
•    Slide Catch/Stop/Release – this is an operating skill.
•    Magazine Release – this is an operating skill.
•    Trigger – this is a marksmanship skill often developed through proper finger placement and the use of proper trigger reset.
Training Considerations and Time Allocation
Firearms' training is similar to many other professional sports or occupations except for our stakes are a little higher.  On our game day, if you make a mistake someone often gets seriously injured or killed!
Most of us have friends who have been playing golf for 10 – 20 years but year after year their handicap hasn't improved.  Why might that be?  Most people go to the course and try to play golf 80% of the time and practice 20% of the time, thus they never get better.
If you think of your favorite professional athlete or team they practice 80% of the time and they play 20% of the time, thus you see a very high degree of proficiency displayed.   It is that same focus that I would like you to consider as you look to enhance your firearms skills.  In the future consider the below training outline:
20%  Marksmanship Focused – grip, stance, breathing, trigger control, sight alignment and picture.
20%  Physical Conditioning – a gun fight is nothing more than a fight that involves a gun.
While firearm encounters are typically short, incredibly violent and often over in 2 – 3 seconds; however most handgun altercations take place at close quarters and you may have to physically fight before you can actually get your firearm into play.  Therefore enhancing your physical conditioning and cardio is a key component of your survivability.
20% Force on Force – unlike the practice we see at the square range, most firearm encounters, and particularly those who survive gunfights involve movement by the combatants.  You need to increase your use of force on force training via simunitions or airsoft to be able to better gauge the actual dynamics of a live encounter.
The actual dynamic encounter is often much quicker than most people realize.  Most people will also need to unlearn our natural aversion to pointing a firearm at another human being.  In a deadly force encounter time equals life and any delay in bringing your firearm to bear on your adversary may cost you your life.
40% Administrative Weapons Handling (Dry Fire Drills and Weapons Manipulations) – administrative weapons handling are some of the biggest keys to surviving a deadly force encounter.
Weapons manipulations, trigger reset, movement, cornering, effective use of cover, ambidextrous gun handling skills, the presentation etc. are all part of your administrative weapons handling training that does not require live ammunition and can be done with empty weapons, snap caps, simunitions or airsoft firearms.
Practicing the above will better prepare you for an actual gunfight and enhance your ability to protect yourself, a loved one, client or the citizens you serve.  Stay aware, stay focused and stay safe!