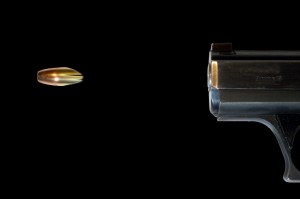 On Friday, June 3, 2011, renowned  firearms instructor Mark "Six" James will be conducting a Defensive Handgun Class at South River Gun Club in Covington, GA.  This course is for a select group of fellow associates in the Protection, Security and Law Enforcement business. The cost for the course is $250.00 ,please find below an information sheet which will help you understand the topics which will be cover in the training.
Defensive Handgun – Tactical Movement and the use of Cover
This course is designed to enhance your personal defensive firearms skills. This is not a basic course and is not designed for beginners. It will introduce participants to realistic situations they will potentially face in their day to day environment. Some of the topics we will cover are:
• Handgun Marksmanship Review
• Balancing Speed and Accuracy
• Effective Trigger Manipulation
• Handgun Fighting Positions
• Increasing your Defensive Options
• Enhancing your Weapon Presentation
• Maintaining Continuity of Fire
• Managing Malfunctions
• 360 degree Close Quarter Engagement
• Shooting on the Move
• Dealing with Multiple Adversaries
• Effective use of Cover
• Weapons Retention and Disarming
This is up close and personal training designed to help you increase your ability to defend your life or that of a loved one or associate. Requirements: Pistol (bring the handgun you normally carry or use for home protection); holster (no shoulder holsters please); 3 magazines; magazine holders; ear and eye protection, kneepads optional but encouraged.
Ammunition: Approximately 300 rounds (minimum)
Additional Considerations: Bring your lunch, water, Gatorade etc.
Course length: 8 hours
Participants: 6 minimum – 12 maximum
Mark "Six" James is the Executive Director of Panther Protection Services and author of a number of firearm and combatives publications such as Defensive Handgun, Defensive Shotgun, Law Enforcement Combatives – Fighting at Bad Breath Distance Urban Carbine. Registration will be first come first serve and will be closed at 12 participants.  Please RSVP at your earliest convenience as the course will sell out quickly.  If you have any questions please don't hesitate to give us a call. (404) 349-9117
Click here for more Info: Defensive Handgun