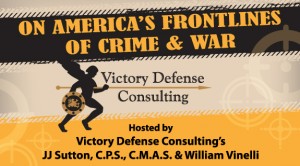 Radio Interviews: On America's Frontlines of Crime & War" found on Voice America which broadcast to over 130+ countries.
http://www.voiceamerica.com/episode/50021/the-harvard-of-bodyguard-schools
ESI (Executive Security International) is a Bodyguard Academy that employees subject matter experts to help teach cutting edge training techniques to ensure that their graduates are equipped with the skills needed to succeed in this industry.
The different levels of training provide the students with multiple opportunities for advancement in various credential programs to enhance their career options. ESI was the first Bodyguard School that has evolved and stood the test of time by keeping up to date with technology, by creating intelligence based core curriculum in reactionary and preventative skill sets.
Director of Sales and Marketing Brandon J Delcamp emphasizes the importance of working smarter not harder and the essential skills of learning from past experience to build a solid foundation that wouldn't compromise the principle's nor the agent's lives.
To listen to the show click: HERE