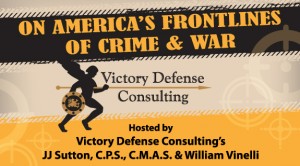 Radio Interviews: On America's Frontlines of Crime & War" found on Voice America which broadcast to over 130+ countries.

http://www.voiceamerica.com/episode/54178/the-art-of-advance-work
Charles (Chuck) Mauldin subject matter expert talks about the art of the advance work the most important aspect of an agent's work. Advance work is a deal breaker and shows an agent's skills and training at work.
Mauldin defines Advance Work as doing the specified thing, meeting with people, go through lists, and acquire as much experience as possible both in the theoretical direction as well as the practical aspect and emphasizes how different individuals have different skills of delivering the results. In his own words:
"How you got there is not important;" what is important is to make sure you have covered all aspect s of the advance work, have all the answers that you need, and the old saying: leave no stone unturned comes to play here.
An Executive Protection agent should anticipate all possible questions that may come up and be able to offer a solution to each one by being up to date with technology and the environmental changes (in the client's environment) that may affect your work.
Mauldin identifies four elements to a successful and thorough advance work: time, extra personnel, tools available to your disposal, and money depending on the budget provided by the client or the company. Clearly defined objectives and goals is another key ingredient to the success of the advance work, and understand who your client is, and what you need to accomplish on each trip. Finally, tailor your meetings to who you are meeting with and what possible problems you are trying to determine when you meet with those contacts.
To listen to the show click: HERE