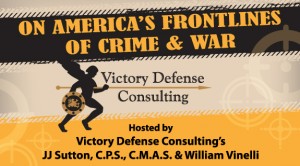 Radio Interviews: On America's Frontlines of Crime & War" found on Voice America which broadcast to over 130+ countries.
http://www.voiceamerica.com/episode/54580/executive-protection-conversations-with-bob-oatman
Bob Oatman is a pioneer in Executive Protection. In his vast career he has served as Chief of Detectives in Maryland's Baltimore Country Police department. His experience and training  evolves around criminal justice and investigations, crisis management leadership, and executive protection.
His achievements include the formation and supervision of the first Hostage Negotiation Team; Bob Oatman thrives in the private sector, both nationally and internationally as a consultant in management services, expert protective and investigative support.
Training is another area where Oatman specializes in and what makes his program different than everybody else's is he feels that "the success or the failure of any given projects depends on getting it right the first time".
He took a year and half to plan his program to make sure his has created a solid foundation in collaboration with other practitioners in the field and used their expertise as a guide for his Executive Protection training. He has invited both law enforcement officers, as well as private corporation Protective Agents, to provide critique and feedback to better their program to offer the best possible training to the new agents.
In this interview Oatman highlights the importance of mentorship in the Executive Protection industry and why it is essential to surround oneself with bright individuals that you can use as assets to one's career.
He also highlights the importance of advance work, counter-surveillance, and the strive to break away from the term "bodyguard" as it has been the stereotypical concept behind new and experienced Executive Protection agents. Oatman explains that "shooting for the stars" concept being a noble goal but a successful executive protection agent's expectations of himself has to reflect reality.
He emphasizes that advance work and research begins with the career selection, training institution, resume, and follows an agent's career throughout.
To listen to the show click: HERE