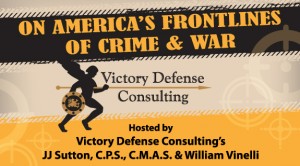 Radio Interviews: On America's Frontlines of Crime & War" found on Voice America which broadcast to over 130+ countries.

http://www.voiceamerica.com/episode/51836/celebrity-protection-and-the-protection-industry
Industry veteran Elijah Shaw talks about why celebrity protection is a very desirable and high profile niche that requires additional skills and "think out of the box" strategy to distinguish and educe one's self from the rest of the Executive Protection agents' population.
An agent has to have the right personality and has to be relationship driven in order to be considered for a celebrity protection jobs.
Each agent has to  always keep in mind that every leads back to a reputation that will follow him/her wherever (s) he goes; the norms surrounding the celebrity protection niche reflect an unregulated celebrity environment that doesn't have a set of rules to ensure professionalism like the corporate clientele does.
To listen to the show click: HERE