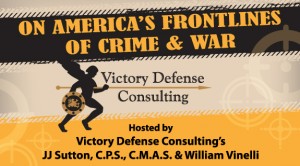 Radio Interviews: On America's Frontlines of Crime & War" found on Voice America which broadcast to over 130+ countries.
http://www.voiceamerica.com/episode/54365/executive-protection-from-southeast-asia
Competition often builds creative problem solvers and those who can find a way to separate themselves are often the ones going to the top. Industry veteran Doc Rogers talks about the opportunities that can be found working PSD in the middle east.
Those who get tired of the high risk opportunities come back with money in their pockets and we are seeing small independent companies one after another spring up and enter the already competitive market of Executive Protection. In this episode hear a professional who was way out front and found a niche overseas in executive protection.
He set up his own company in SE Asia and entered a specialized niche where few others dared to go. He provides services regularly in 16 different countries in SE Asia, Asia, and the Far East. Always on the go we were lucky to catch up with him and get an interview from the Philippines. While you tune in; browse our on-line store and training schedule: victorydefense.com
To listen to the show click: HERE