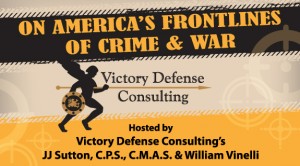 Radio Interviews: On America's Frontlines of Crime & War" found on Voice America which broadcast to over 130+ countries.

http://www.voiceamerica.com/episode/52373/screening-vetting-and-monitoring-professional-agents
Ensuring the integrity, the loyalty, and the right guy is standing next to your client has never been more important than in today's protection business. Employers need to be aware of the bad apples and screening for them is getting pretty high tech these days. The cost of having one bad apple can be tremendous. In this episode we will be talking about how one firm is doing that.
They are looking for integrity flaws, propensity for untruthfulness, and criminal backgrounds to mention a few things they review. The labor statistics on how much more it costs to hire a bad employee (poor performance, theft, drug abuse, extra HR issues with the employee, missed work, lack of productivity, affects on moral, sleeping on the job, sexual harassment, loss of a client or clients) is astounding vs. spending the money to conduct a thorough background check and do some pre-employment screening. The cost pays off quickly with a happy client, minimized internal security risks and lower turnover.
To listen to the show click: HERE