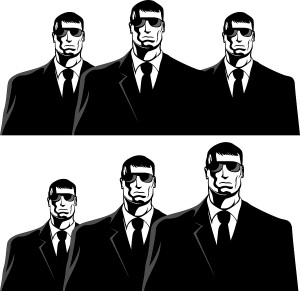 EDUCATION, CERTIFICATION, & LICENSING
Many bodyguards are former police officers, ex-military, secret service agents, FBI agents, and security guards. Most agencies hiring bodyguards require a high school diploma or GED. They also screen applicants–conducting extensive background investigations and credit checks. In addition, most bodyguards must pass a health examination and drug tests.
While no national certification or licensing is needed to become a bodyguard, many clients prefer bodyguards who have attended one of several specialized training courses or "bodyguard schools" that offer certification as a personal protection specialist. Other clients look for certification proving specific skills as CPR and self-defense. Still other clients prefer bodyguards with an extensive background in police work or who are licensed to carry firearms.
Specific tasks include:
Planning a client's arrivals and departures throughout the day to minimize risks
Handling paparazzi, media, and friendly approaches from fans
Providing defensive escort driving to escape fans, paparazzi, or pursuers
Engaging in unarmed defensive tactics to thwart aggressive fans
Conducting home, office, vehicle, and building searches
Protecting clients in crowd situations
Making logistical arrangements for any trip outside the home or office
Voluntary certification in physical security and as a protection professional is available from the American Society of Industrial Security.