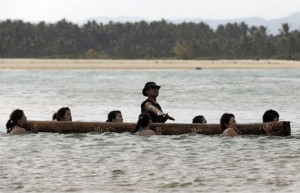 China Bikini Bodyguard – Twenty women, dressed in bikinis wanting to become female bodyguards, were kicked, dunked, near-drowned and forced to carry a heavy log between them during a tough boot camp run by professional bodyguards on Sunday. Tianjiao Special Guard Consultant Ltd., a Chinese security company, started their brutal training regimen for their future female bodyguards in China's Hainan Province.
This is the first open group of female bodyguards in China, and those that survive the harsh month-long training will be entered into a longer, 10-month program, wherein they would learn a variety of skills to effectively guard their clients.
Anti-terrorism training, martial arts skills, reconnaissance and business etiquette must all be developed in order for the ladies to become bodyguards.
The twenty aspiring women bodyguards all have an education of some sort, with many of them graduating from college. Being a bodyguard presents a different economic opportunity, however.
Instead of making the average annual salary in China of about $1,500, these women can make far more. Some bodyguards get paid up to $100 a day to protect their rich clientele.