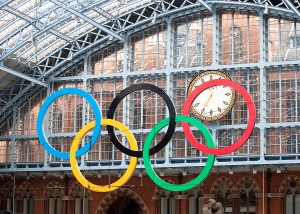 In the News: Security Secrets Left On Train
Top secret  security documents detailing plans for policing this summer's London Olympics was left on a train. The file, which could have provided terrorists planning an attack with very useful data, was lost by a policeman.
A commuter found it and handed it to The Sun, who returned the file to the police, the newspaper reported Tuesday. The chief inspector in Scotland Yard's Territorial Policing branch is said to be "hugely embarrassed" by the potentially serious blunder.
"Restricted" files spell out the security plans in place at the sites of events and provide minutes of top-level meetings in which ways to beat terrorists were discussed. The document contains dates and details of pre-Olympics rehearsals, explains emergency lockdown procedures and sets out plans to avoid traffic congestion. It also reports at length on damning complaints from officers about the radios they will use during the Olympics.
The documents were found by a commuter on a train in Dartford in Kent, southeastern England, on Jan. 5. "I couldn't believe any policeman could have left this on a train. It's a worry," the unnamed commuter said.
London's Metropolitan Police played down the incident, saying the files were not thought to be operationally sensitive. A spokeswoman said, "An officer lost his bag containing a number of documents. He reported the loss. The Directorate of Professional Standards have been informed, as is routine."