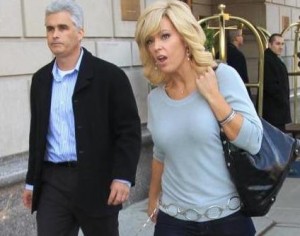 Source: RumorFix
Kate Gosselin is declaring war on a Philadelphia paparazzo that told a gossip website that he saw Kate and her bodyguard Steve Neild getting cozy inside a Philly hotel.
"[Steve and Kate] were definitely together, at one point he had his arm around her, and there was no crowd near them," Hughe Dillon told the tabloid outlet. "Wish I had thought of getting that shot, I don't know what I was thinking!"
Maybe Hughe didn't think of getting the shot because there wasn't one — that's what Kate is claiming. The fiery mother of eight took to Twitter on Tuesday to launch an all-out war against the reporter, writing:
"A pap with no story had to create one to save face and make a name for himself … I have no time for people who invent stories for [their] own publicity. He looked dumb because [he] had no scoop," the reality star tweeted.
"I cannot accept being lied about, especially for someones own gain! To be continually blatantly lied about is repulsive and disgusting," she added.
Rumors of a secret romance between Kate and her married bodyguard have been tabloid fodders for ages now, but Kate has maintained that there relationship is strictly professional.