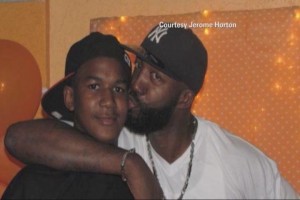 5 Shocking Things About the Trayvon Martin Case
By Mark "Six" James  CPO, EPS
There has been a lot of discussion about multiple topics surrounding the Trayvon Martin and George Zimmerman case. In my humble opinion most of it is off base and people have attempted to connect issues which I feel are unrelated and only choose to cloud the issue.
Whenever you talk 2nd Amendment people start to draw a line in the sand.  If you bring race into the topic one side or the other stops listening. If a white man kills a black teen emotions are high. If a black man kills a white teen emotions are high. Kids dying get all of us supercharged.
Let me try and disconnect some of the connections which have been made so far.  In my mind, HERE ARE 5 THINGS this case is not about:
•              2nd Amendment – this is not about the right to Keep and Bear Arms. I wish people would please stop trying to make it be.
•              Race – as I said above kids dying gets everyone upset, regardless of nationality, gender or socioeconomic status.
•              Self-Defense and Deadly force are related but not the same. You can use force to defend yourself but all self-defense actions don't grant you the ability to use deadly force.
•              Castle Doctrine – a person has no duty to retreat when their home is attacked.  Neither party was attempting to protect their dwelling.
•              Stand your Ground – a person may use deadly force without the obligation to retreat. I don't think anyone should have to retreat to protect themselves from severe bodily harm or death. History has shown the sequence of events often move faster than the law abiding citizens could retreat to a safe place.
I can only speak for Georgia Law and it is pretty simple.  You cannot use self-defense as a defense against prosecution if you initiate a confrontation and someone dies.
Georgia Code 16-3-21.  Use of force in defense of self or others; evidence of belief that force was necessary in murder or manslaughter prosecution.
(a) A person is justified in threatening or using force against another when and to the extent that he or she reasonably believes that such threat or force is necessary to defend himself or herself or a third person against such other's imminent use of unlawful force; however, except as provided in Code Section 16-3-23, a person is justified in using force which is intended or likely to cause death or great bodily harm only if he or she reasonably believes that such force is necessary to prevent death or great bodily injury to himself or herself or a third person or to prevent the commission of a forcible felony.
(b) A person is not justified in using force under the circumstances specified in subsection (a) of this Code section if he:
(1) Initially provokes the use of force against himself with the intent to use such force as an excuse to inflict bodily harm upon the assailant;
(2) Is attempting to commit, committing, or fleeing after the commission or attempted commission of a felony; or
(3) Was the aggressor or was engaged in a combat by agreement unless he withdraws from the encounter and effectively communicates to such other person his intent to do so and the other, notwithstanding, continues or threatens to continue the use of unlawful force.
In my mind this case is about why Mr. Zimmerman took it upon himself to target or profile this kid. "This guy looks like he's up to no good. Or he's on drugs or something. It's raining and he's just walking around, looking about."   What led him to those conclusions?
Whether he is a neighborhood watch captain or not here is where it gets cloudy for me:
 Neighborhood watch traditional guiding principles:
1. No Guns
2. Never patrol alone
3. Observe and report
4. Don't get involved even if asked to do so by the parties involved.
If Mr. Zimmerman thought young Martin was the axe murderer, unless he saw him swinging the axe he has no legal authority to stop, detain or harass the kid. Citizens do not get the luxury of probable cause that is reserved for the police. If you do you are accountable for your actions.
In Georgia when you stop, detain or harass (stop someone's locomotion) without the proper authority you open yourself up to false imprisonment, kidnapping charges or other civil rights violations. When he informed the dispatcher the kid was running away and the dispatcher told him not to follow the kid, and he did it anyway, I don't understand how he can then attempt to plead self-defense if he initiated the contact by continuing to follow the kid. If any of you reading this post or article and where walking through your own neighborhood and someone you did not recognize attempted to follow you it would or should be cause for concern or at minimum heighten your awareness.
If challenged by the follower and they lacked legal authority, the potential for confrontation, fear or at minimum anxiety would be present. This situation could easily escalate toward physical violence if I thought the stop was baseless and the follower lacked cause.   If I saw or felt a gun that would also increase the level of force I would be prepared to return against the individual confronting me. Reasonable people normally come to reasonable conclusions, and most are not looking to be harassed in their own neighborhood.
What puzzles me about the police in this matter is reports say Mr. Zimmerman was not required to surrender his firearm. If that is true, that would be inconsistent with how shootings involving injury or death whether by police officers, security officers, bodyguards and even private citizens are historically handled.  Ballistic checks, clothes for gun powder residue etc. are all routine procedures during these types of investigations. I am not going to pass judgment on the Sanford police but again I will say if this is true it would be inconsistent with normal protocol. That in my mind is why outsiders are involved.
What we don't know is what the analysis of the clothes said.  Is there DNA from both parties on the clothes, are there defense wounds, are the wounds and injuries at contact distance, is their residue on Zimmerman's hands?  Is the path of Trayvon Martin the same as the path of Mr. Zimmerman?
Did Zimmerman stay in the car or did he follow on foot?  Are there any other witnesses?  What did the ballistics evidence tell us? There is a lot more information to come. Stay objective and don't rush to judgment. If you are going to comment try do some research and make an educated argument based on facts not emotions or personal bias.
There are enough people falsely reporting information for their own selfish gain, are a discredit to their profession, and only choose to further polarize the masses.  Use this situation to help manage or assess your own neighborhood watch program, and to hold your local police department and investigators to a higher standard.  We cannot bring Trayvon back but hopefully we can improve how we deal with these situations going forward.
Mark "Six" James is the Executive Director of Panther Protection Services a full service protection agency and internationally published author.  To find out more about Panther Protection Services visit www.pantherprotectionservices.com or www.facebook.com/pantherprotectionservices .