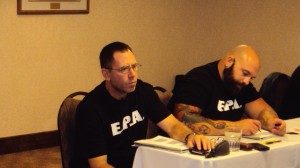 The Executive Protection Academy is Offering a Four Day Intermediate Executive Protection Course

Course Description:
Intermediate Executive Protection Course is 4 days of intense training. The course is designed for the novice to the seasoned veteran. This course is intended to give the executive protection specialist a solid foundation of executive protection principles and concepts.
Please note: this course is physically and mentally demanding and, will require long days and maximum student participation. A certificate of
attendance is awarded to attendees upon completion. Dress is casual, however you will need to bring one dress suit.
Course Information:
4-Day Intermediate Executive Protection Course
Dates: June 21-24. 2012 Thur/Fri/Sat/Sun
Location: Minneapolis, MN
Price: $950.00

Course Outline:
•    Welcome to the real Executive Protection
•    Introduction to Training Staff
•    History of Executive Protection
•    Executive Protection – Principles & Concepts
•    Executive Protection Assignments / Roles
•    Layers of Security
•    Client Types
•    Advance Concepts – Domestic & Foreign Procedures & Guidelines
•    Duties of the Advance Agent
•    Formations / Motorcades
•    Formations (practical exercise)
•    Protective Detail – Construction
•    Site Advance (practical exercise)
•    State Licensing Requirements for Executive Protection Services
•    Communications
•    Attack on Principle
•    Surveillance Detection
•    Emergency/Contingency- Planning and Response Procedures
•    How to get Executive Protection Jobs
•    How to Successfully Market E.P. Services
•    Final Live Executive Protection Mission on Day 4
For more information, call us today at: 320 894-9451
Please RSVP us at rick@executiveprotectionacademy.com if you would like to attend. A $350.00 deposit (non refundable) payment is required to confirm your space.
Registration will be first come first serve and will be closed at 15 participants. Thanks in advance for the consideration and I look forward to training with you.