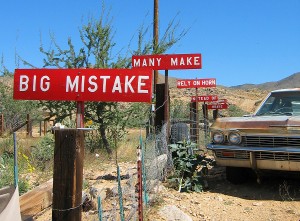 By Doc Rogers
Everyday more and more people enter the bodyguard and executive protection industry. However, only a few land lucrative assignments and go on to have successful careers.  What do all successful professional bodyguard and executive protection specialists have in common?
Successful professionals see opportunity where others see disappointment.
Successful professionals focus on a positive path within the bodyguard industry.
Bodyguards that made it big in the industry worked on what they love to do rather than only making money. They knew that money would eventually follow from working on their dreams and aspirations.
Successful bodyguards take responsibility for their own life and livelihood.
To become a success in the bodyguard and executive protection trade you have to start thinking and acting different. This means changing your patterns, activities, and your thoughts.
First off, you are going to need to present yourself in a professional manner and do a complete makeover if necessary. The better you look and feel about yourself, the better chances for success.
You are going to have to sell yourself and your bodyguard services.  In this business everything that happens to you depends on you alone. Make it positive by acting well, dressing well and speaking well. The choices you make for yourself also have an impact on your career. This includes the seminars you attend, the articles and books you read, the people you choose to associate with and others you choose to distance yourself from.
Your success in the industry requires lots of actions. Opportunities in the bodyguard and executive protection field exist, but it's up to you to take action and go after them.  This is the one solution to get on a successful career path.  Starting today, your full-time job is to become a success in the industry.
This will not be easy, you'll have to put in 10-12 hour days networking, writing cover letters, and sending out résumés, handing out business cards, mailing out "thank you" cards and follow up letters.  You must display confidence and professional polish in all you do. Have a strong personal motivation in mind and body. Calculate every world you speak and every move you make. And develop your own coherent strategy to become a successful.  Stop doing what everyone else is doing and stop walking that common path with your eyes shut and you will have success. To your success and God speed.