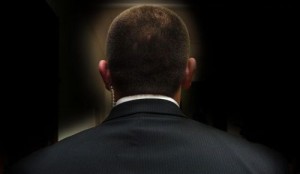 By Doc Rogers
You are fresh out of the academy and have landed a solo bodyguard assignment from one of your associates. It's a relatively easy gig; pick up the client from the airport, transport to the designated hotel, next morning bring him to several meetings within the business district and then back to the airport for an 8:00 PM outbound flight.  You have conducted two full days of productive advance work and have a good security driver working for you. But how do you go about meeting the client for the first time? Follow these simple instructions and you will not have any problems.
MEETING THE EXECUTIVE
First impressions are very important. In order to make that initial contact with the executive a pleasant experience, the bodyguard has to be fully prepared. When meeting an executive at the airport for the first time carry a signboard with a pre-designated code word printed with black ink on white paper.  You never want to use the executive's name, as someone else could duplicate a sign with the same name and easily kidnap the arriving executive. Attach the sign to a clipboard and hold it at chest level.
GREETING
Upon arrival at the Meet and Greet Area the executive should be welcomed with a positive and friendly attitude.  One suggested greeting: "Welcome Mr. or Ms. (client's name). May I take your bag?" Look the executive in the eye and greet him/her with a handshake and smile.  This is where you start building a professional relationship from the start with professionalism trust and mutual respect.
ASSISTING
Yes, I realize you have been trained to keep your hands "free" at the academy. However, this is the real world. A young, muscular bodyguard should never let a 60 year old, senior executive struggle with his luggage (you may setup airport porter assistance if available).  Assist the executive with his or her luggage to the security vehicle. Do not enter into a conversation unless first addressed by the executive.
WHILE EN ROUTE TO HOTEL
Ask the executive politely if there have been any revisions to his or her itinerary.  If so respectfully request a copy of the revised itinerary to ensure that you are highly familiar with all the planned locations.
UPON REACHING THE HOTEL
Upon arriving at the hotel ensure that the security driver maneuvers his vehicle where the rear door is in line with the hotel entrance when the executive exits. You must be first to alight from the vehicle to open the door for the executive, to ensure no security hazardous present and to assist in alighting if necessary. Carefully have the hotel bellman unload the bags from the trunk. Once the luggage is unloaded do ensure that the hotel bellman assists the executive with baggage while you escort him/her to the front desk for check-in and to the hotel suite.
BUILDING RAPPORT
As a professional bodyguard you must start building rapport with the client upon arrival, helping the client get comfortable with you and the services you provide. When meeting a new bodyguard for the first time clients may feel a little awkward. Part of your job as a bodyguard is to ensure that your client is relax and enjoys his or her business visit to the city without any problems, risks or delays.
APPEARANCE
As a bodyguard you must dress at all times as if you are attending a formal function. If you want to earn top dollar, you've got to look top dollar.  Make your client feel comfortable that he or she is dealing with a well-dressed professional.  Again, when meeting the client the next morning remember to smile. It's such a simple thing to do and it sets the tone for everything. Look your client in the eye, smile and greet him or her professionally. One suggested greeting: "Good morning Mr. or Ms. (client's name)."
KEYS TO SUCCESS
Executives look for three things in a professional bodyguard:
1.    Being treated as a valued client.
2.    Being greeted warmly.
3.    Being guarded in a safe and professional manner.
To be a successful bodyguard you have to get all three down to a science. Keep safe and God speed.
Doc Rogers is the author of Corporate Executive Protection – A Manual for Inspiring Corporate Bodyguards and president and CEO of International Corporate Executive Protection Ltd. Doc has earned a Ph.D. in Security Administration from Southwest University and he is SE Asia's leading expert on executive protection and corporate security.