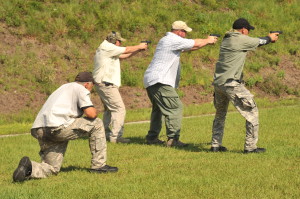 Executive Protection Training Course
Combining the most effective of Israeli and U.S. executive protection training methods, Shaneson Consulting Group LLC, is now offering an intensive, 10 day high-threat executive protection training course taught by retired Secret Service and Special Forces trainers. Training will commence in one of the most picturesque locations on earth – Cha am, Thailand.
This all inclusive course is very physical and not for the feint of heart. It includes (but is not limited to) the following training modules:
• VIP movement and evacuation drills (empty hand and one hand firing)
• Selective and aggressive combat Krav Maga
• Edged weapon defense, and counter-attack techniques
• Advanced tactical shooting using both short and long guns
• Operational driving under fire
• Surveillance and counter-surveillance theory and practical exercises
• IED/Bomb detection and security
The practical exercises and scenarios in this course are designed to challenge you both mentally and physically and will push you to your limits, and beyond. Training will be tough and exhausting, but when the training day is over you will have earned the beauty and recreation Thailand has to offer. Your all inclusive training package includes:
• 5 star resort hotel accommodations
• Breakfast, lunch and dinner for the duration of training
• All weapons, ammunition, vehicles, training pads and other equipment
Investment: $4,200 USD
Contact us for a complete course outline and additional registration information.
Ashaneson@gmail.com. mobile 516-639-8040 www.scgllcops.com