I Am a Protector
The new eBook by Corwin K. Noble the author of the nationally published book "The Executive Protection Manual.  I Am a Protector – Volume One  is his latest publication which tells his origin as a Protector and covers such topics as: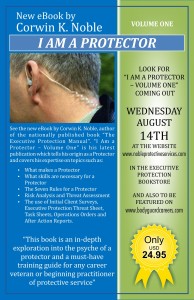 • What makes a Protector
• What is necessary for a Protector
• The Seven Rules for a Protector
• Risk Analysis and Threat Assessment
• The use of Initial Client Surveys, Executive Protection Threat Sheet,
Task Sheets, Operations Orders and After Action Reports. Corwin K. Noble is the founder and President of Noble Protective Services with over 30 years experience in law enforcement and security. His clients have included, The Department of Homeland Security / Federal Protective Service, Dominican Republic National Police, Hewlett Packard Corporation, TE Connectivity, American Eagle Clothing, Bombardier Transportation, U.S. Postal Service, Republican National Party, and various law enforcement agencies and private entities in the United States and abroad.
He has trained numerous domestic and international executive protection teams and has conducted various high level, protective service details and investigations, which have included protecting corporate executives, foreign dignitaries, and politicians. This has included assignments in the United States, South America, Mexico, Philippines, Haiti and the Middle East.
He is the nationally, published author of "The Executive Protection Manual". He has also been featured on television and radio as an expert in executive protection, corporate security, workplace violence prevention and terrorism. He is a frequent lecturer and instructor both in the United States and internationally regarding executive/dignitary protection, security consultation, workplace violence prevention and law enforcement/security tactical instruction.
ONLY USD $24.95
How to Become an Executive Protection Specialist By Chris (Doc) Rogers
Top Executive Protection Schools By Harlan (Hucky) Austin