Hello there.  This is Jeff, the mostly silent other half of Bodyguard Careers.  Whereas Hucky serves as our face to the outside world, my role with Bodyguard Careers is mainly behind the scenes.  I am the geek who writes the code that makes this site work.  I am also the one with the sunglasses on in the photo below (from my first and only Executive Protection assignment).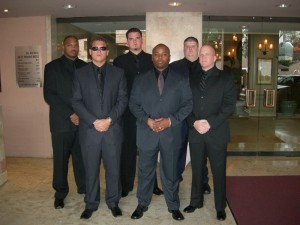 I am writing to you because this past weekend, we decided to roll out a new design for the website.  I'm sure you have already noticed, but I wanted to call your attention to the several new features that we have added to the site, as well as a new three column layout.  We are hoping that this layout makes it easier to find information without scrolling, and it also gives us a lot of open space to add cool new features to the site (like the poll to your right).
A lot has changed since we first launched this site back in 2005, including my ability to quickly implement new features within the WordPress platform (that is the software we use for this blog).  Bodyguard Careers was actually the first blog I ever created with WordPress, and since then I have helped implement WordPress on more than 30 other sites.
In addition to maintaining the blog, we also implemented a fully functional resume tracking and candidate management system behind the scenes to aide in job searches.  Did you know that our bodyguard resume database has 1301 resumes?  There's a good chance that is the biggest in the industry!  We have also had over 2400 people sign up for our weekly email list.  We are constantly humbled by the quality of the community surrounding our site.  We couldn't do it without you!
With the new redesign, we have a great opportunity to further improve the community around Bodyguard Careers, and I am seeking your help.  Is there anything that you want to see us add to Bodyguard Careers?  Is there anything that you don't particularly like about the new design (and don't say you don't like the advertisements, because they pay the bills and aren't going away!)  I am looking for honest feedback on how to improve the site, and I think with your input we can make truly make this site "world class."
If you have any suggestions, questions, comments, please fill out the new contact form or leave a comment below.  I will do my best to implement your suggestions, as long as they fit into Hucky's master plan. Afterall, this is his baby!
Stay Safe,
Jeff