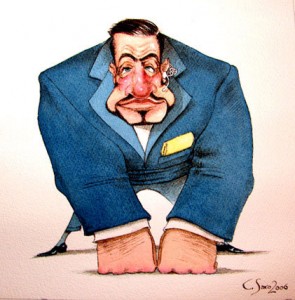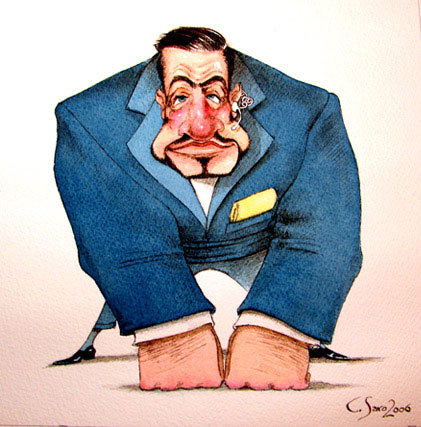 Goon-for-Hire or Professional Bodyguard By Doc Rogers
Goon-for-Hire (appearance)  The tooth pick protruding from his mouth, the leather jacket and adidas tennis shoes, the sunglasses worn at night or the brash swagger shows he does not fit the clients' environment.  He has not mastered the art of BG camouflage and how to blend in.  His appearance is degrading the protection he provides.
Professional-Bodyguard-for-Hire (appearance) Although even after years on the job he still feels uncomfortable wearing a suit and tie, nevertheless he wears it confidently and elegantly making sure he blends into the clients' environment and does not outshine his client.  He is practicing the art of BG camouflage at its best.
Goon-for-Hire (attitude) His attitude is that of a grimacing and intimidating individual. This type of attitude worked for him on the streets when working for lower level clients, however at this stage it's a detriment.  You can't be unapproachable; you need fit in with the client group mentality, not only from career longevity prospective but from an intelligence prospective. If you appear unapproachable you'll be out-of-the-loop.
Professional-Bodyguard-for-Hire (attitude) Even though he has an unusual air of self-assurance and a certain bearing he treats the job as a business.  This means maintaining a professional businesslike attitude and is approachable by the client and the clients' associates. He is kept in-the-loop on all relevant matters concerning his client and can provide better protection than the most sneering bodyguard.
Goon-for-Hire (operational tactics) He resorts to his old ways by relying on fear and intimidation as his main operational tactics for keeping the client safe.  His bodyguard methods include manhandling non-threating individuals who appear in his path while working the client. Non-obtrusive blocks or pre-planned foots movements are not in his arsenal of procedures. Despite the fact the news media may mention his pushing and shoving strategies; "brawn" remains the preferred technique.
Professional-Bodyguard-for-Hire (operational tactics) Yes, there are times when he would love to shove a camera down a certain cameraman's throat; instead he elects to utilize his hands and body in a non-threatening manner to guide the client smoothly past aggressive paparazzi's and well-wishers to the waiting vehicle. He took the time to conduct his advance work and didn't just wing-it.  There was no manhandling in his operational tactics and therefore no negative press coverage.
Goon-for-Hire (non-operational hours) On his off duty hours he prefers to be a couch potato, working on his excess bulk by drinking beer and eating junk food. Exercise may involve a walk to the local neighborhood liquor store for cigarettes, beer and some frolic with the girlfriend.