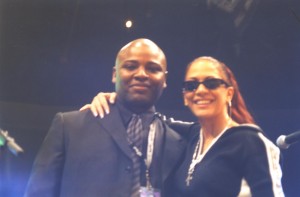 By Doc Rogers
All bodyguards dream of obtaining high-profile clients, the following are some basic tips on how to position yourself to successfully retain these types of clients.
Do your research, check public records, newspapers and magazines about big name potential clients in your area or those who visit your area on a regular basis. Be in the right place at the right time by choice; position yourself in upscale restaurants and affluent bars where the wealthy and high-profile socialize. Cigar bars are popular spots for wealthy and high-profile individuals. Take mental notes, be quiet, look upscale and  confident in your appearance. Conduct detailed observation and analysis of:
1) How did the individual arrived at the restaurant, bar, cigar bar, etc.?
A) Taxi
B) Self driven
C) Chauffeur
D) Accompanied by bodyguard
If the individual took a taxi (answer A), than you know there are particular risks involved with taxis; threat of assault, robbery or even murder. If you observed that the individual had driven him or her self to the location (answer B) you know that individual has a higher risk for kidnapping or carjacking. It is doubtful that the person has anti-kidnapping driving skills or that the vehicle is armored. If the individual has been chauffeur driven (answer C), observe an analyze the chauffeur's security skills in dropping off and picking up the individual. If the individual is accompanied by a bodyguard (answer D), take note on how you could assist the bodyguard in his duties for better protection of his client.   [Read more…] about How To Get High-Profile Bodyguard Clients