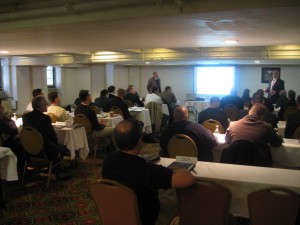 One Day Executive Protection Seminar
in Minneapolis/St. Paul, MN
April 20, 2012
Introduction and Overview of Executive Protection
Overview
This is an informative one-day program designed to
introduce men and woman to the new professional
career field of personal protection. Presentations will
review philosophy, doctrine, methodology, mechanics,
guidelines, movements, dimensions, and checklists
for the protection of executives, officials, celebrities,
politicians, religious and world leaders.
It is an opportunity to be involved in the presentations
and participate in a training exercise as an example
of what this career is really about.
Course content
Who is qualified?
  Where is the work?
When to start?
What assignments can I expect?
Why consider this career?
    How much money can I earn?
Topics Covered Include:
Advance work
Preventive Strategies
Threat Assessment
Choreography
Risk Management
Countermeasures
Protective Measures
Traits Required
Responsibilities
Operations
This program is for those who are curious or have an interest in the field of
Providing Personal Protection.
For individuals involved in other security careers, law enforcement, military,
business, law, teaching, computers, sales, service industry and students;
those who are considering another career or planning their retirement job.
An opportunity to learn the difference between "bodyguard" work and
professional personal protection from those who wrote the classic textbooks
(Providing Executive Protection & Providing Executive Protection vol.II)
on the subject  and have operated the Executive Protection Institute since 1978
The Executive Protection Institute is the first school to consider Personal
Protection as a new professional career and continues to teach worldwide.
Where & When
Minneapolis Marriott City Center
30 South 7th Street
Minneapolis, MN  55402
April 20, 2012
9:00AM-5:00PM
Tuition: $95.00
(deductible when attending the 7-Day Program)