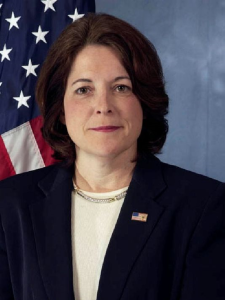 First Woman Director of Secret Service
Sometimes art imitates life. In the recently released movie "Olympus has fallen" Angela Bassett plays the director of the Secret Service, and now today President Obama names Julia Pierson as the first woman director of Secret Service. Pierson has been with the agency since 1983, and since 2008 has been the agency's chief of staff.
Pierson's appointment comes nearly a year after the agency — charged with protecting the president and top administration officials and visiting dignitaries — was rocked by a prostitution scandal. Several agents, who traveled to Cartagena, Colombia, to do advance work for Obama's visit last April, brought prostitutes back to their hotel rooms.
Secret Service Director Mark Sullivan announced his retirement last month after a nearly three-decade career and seven years as head of the agency.
In testimony before Congress last year, Sullivan apologized for the conduct of Secret Service personnel in Colombia.
Pierson was appointed to the position of chief of staff on Aug. 3, 2008. Prior to her appointment, she served as the Secret Service's assistant director of the Office of Human Resources and Training, a position she held since June 2006.
She is a native of Orlando and began her career with the agency in 1983 as a special agent assigned to the Miami Field Office, after having served three years as a police officer in Orlando.
Arnette Heintze, a retired Secret Service agent who worked extensively with Pierson, said the career agent has "solid credentials that nobody can question."
As for the first woman director of the agency, Heintze said, the "service is more than ready."
Heintze said he first worked with Pierson in the mid-1980s on a wave of identity-theft cases involving Nigerian nationals that spread across the United States. Later, they worked on the protective detail for President George H.W. Bush.
"I knew her as a solid criminal investigator, with a good reputation as a street agent," said Heintze, who served as special agent in charge in Chicago before his retirement in 2003.
"No one can question that she has the experience and understanding of the job as a special agent," Heintze said. "She's got all the credentials, and now she's got the backing of the president."
As the chief of staff, Heintze said, there is "no question" that Pierson would have "weighed in" on the review into agents accused of consorting with prostitutes while on detail in Cartagena, Colombia.
"I think her appointment will go over well," he said. My guess is, although she may be the first woman director of  Secret Service, she certainly won't be the last.