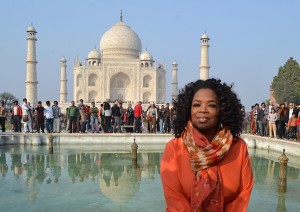 IN THE NEWS – In what's already been a rough week image wise for the bodyguard industry, Britney Spears ex-bodyguard breaches client confidentiality, and then Madonna's ex-bodyguard jailed for smuggling guns into the UK.
Now it seems that three of Oprah Winfrey's bodyguards were detained by Indian police after a scuffle with local TV journalists.
The incident occurred while the internationally acclaimed TV host was shooting for her show 'Next Chapter' while visiting the Hindu pilgrimage town of Mathura, about 90 miles south of Delhi, Indian police briefly detained three of Oprah's bodyguards after they scuffled with local TV journalists. No one was reported hurt.
The three bodyguards were released after apologizing in a letter to the journalists.
Today, she visited the Taj Mahal and on Friday, she plans to attend the Jaipur Literature Festival, reports AP.