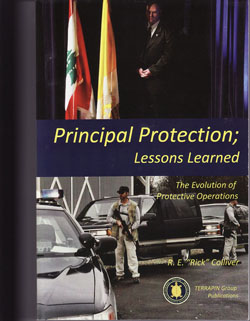 Principal Protection Lessons Learned
The Evolution of Protective Operations by R.E. "Rick" Colliver
Protection, like any other process, is evolutionary. And we should agree that a large part of any evolutionary process is failure, which is another way of saying "learning through our mistakes." As the title suggests, this book is about the lessons learned through several thousand years of trial-and-error, creating and adopting best-practices, striving to provide protection for persons of public interest and others at risk.
Originally developed as a companion text supporting professional courses in protective operations, Principal Protection Lessons Learned can be a valuable reference for all specialists and managers employed in the protection field, to help them enhance and add value to their own vulnerability assessments, protective operations, and human security management.
Far from being another "how-to" book on protection, it is more of a "why-to". Principal Protection Lessons Learned goes far beyond the reactionary skills highlighted in other texts, and provides the reader/practitioner with a wealth of applicable information and knowledge that has been acquired through the experience of protection professionals for several millennia.
Finally, a book for both public and private sector protection professionals who are required to manage protective operations with a minimum of headcount and budget, in an increasingly complex and demanding environment.
Contents
• Chapter One: Principal Protection
• Chapter Two: Comprehensive Security
• Chapter Three: Understanding Threat and Risk; an Introduction
• Chapter Four: Assessing Threat and Risk in the Field (with Dr. Ken Wolf, Dr. Emily Wolf and Marilyn Knight, MSW)
• Chapter Five: Ethics, Etiquette and the Scope of Your Employment
• Chapter Six: Conducting the Advance
• Chapter Seven: Hazardous Device Search Techniques
• Chapter Eight: Protective Detail Planning and management(with Tim Halbakken)
• Chapter Nine: Managing Protection
• Chapter Ten: Lessons Learned Through History
• Appendix A: A Glossary of Terms
• Appendix B: White House Security Review
• Appendix C: Security Checklists
• Appendix D: Bibliography
• Appendix E: State v. Hessler (2000), 90 Ohio St.3d 108
• Appendix F: National Special Security Events Prepared for Members and Committees of Congress
Appendix A is an extensive Glossary of Terms, acronyms and abbreviations that protection specialists will likely encounter during the course of their employment. Appendix B; "White House Security Review", explains a practical methodology for security assessment but also illustrates the type of precursor event that can predicate such an in-depth analysis and the scope of work required in such an undertaking. Remember that the higher the profile of the Protectee, the more attention will be focused on your work.
Appendix C is a collection of commonly found checklists that the reader can modify for their own use as appropriate. Regardless of how many years we spend in this business or how many routes and venues we advance, it is always helpful for us to have some sort of guide to ensure that we have not overlooked something.
Appendix D is a bibliography of material relating to the field of dignitary and executive protection. Regardless of the age of the material, many of the tried and true observations remain valid to this day and have helped us to shape our protection programs.
Appendix E is a copy of State v. Hessler (90 Ohio St.3d 108, 2000-Ohio-30) which provides a comprehensive review of a case of targeted violence including background on the perpetrator and his relationship with his victims. For protection personnel involved in threat assessments this will afford a rare glimpse into the violence process and resultant effects.
Appendix F is a congressional executive summary explaining the formation of the National Special Security Events (NSSE) designation. Protection personnel working key special events that are specified as NSSE should be familiar with this act.
About the Author R.E. "Rick" Colliver
Rick Colliver has served as the global security director for two multi-national corporations with operations in 24 time zones, and has managed protection details on four continents. He is the course developer and lead instructor in the Principal Protection program at the Ohio Peace Officer Training Academy and is an adjunct instructor in protective operations through several police, military and academic organizations. He has held security clearances with the US DoD and DHS, and serves as an advisory board member with the American Board for Certification in Dignitary and Executive Protection, and a Council Member for the Protective Security Council
                                                                                        Testimonial
"Rick is a friend of mine and in my opinion the subject matter expert with regards to executive security. I tell my colleagues he's the sleeping giant of the EP industry, he's been a great mentor. He's a top-notch guy and without question his book (Principal Protection; Lessons Learn) is one of the best".
Hucky Austin