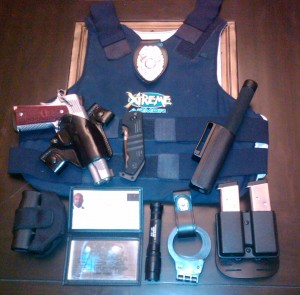 By Doc Rogers
Bulletproof defined; impervious to assault, damage, or failure; guaranteed – capable of resisting the force of a bullet.  How does one go about bulletproofing his or her bodyguard career?  As a bulletproof vest is made from many layers of woven or laminated fibers so should your bodyguard career.  Here are just a few examples on how to bulletproof your bodyguard career.
1.    Knowledge. Never think you know everything. As soon as you get complacent, you become vulnerable.  Be constantly trying to learn more from bodyguard trainers, from other bodyguards and from books. Everything you learn contributes to bulletproofing your bodyguard career.
2.    Be a Specialist. To bulletproof your career you must have some special knack. You should be able to conduct this knack better than anyone in your operational area.  When you are first starting out in the trade you'll be a generalist, but to bulletproof your career for the long haul start building special capabilities. For example; advance man specialist, a particular geographical area  specialist, specialize in providing executive protection, specialize in providing celebrity/VIP protection, specialize in providing armed professional security drivers for wealthy and powerful elites, etc.
3.    Seize Opportunity. From the very start of your career plot a straight course to seize opportunity that comes your way as well as conduct painstaking research to make your own opportunity and land a lucrative bodyguard/executive protection contract.
4.    Plan Carefully.  When starting at the bottom of the trade you may feel like the lonely Maytag repairman. Being assigned to halls and walls duty, baggage security detail, or residential security.  Firstly, you must have a single-minded determination to pursue the job at hand and learn all there is to know. Secondly, you must, succeed and rise from these positions and get on the principal's close-protection detail.  Use your time wisely.  Plot your course and start the planning that will drive you ahead.
5.    Keep in Shape.  Because we have the body that guard's; we must keep it operating very efficiently like a well-oiled machine.  This means plenty of exercise and eating right.  A recent medical study suggests that exercise can lower your risk of Alzheimer's in later years.  For a bulletproof body and mind plan for the haul with lots of physical activity. Think of your body as a highly lucrative marketing investment for your career.
Hope this article helps you to get a bulletproof career. Keep safe and God speed.
Doc Rogers is the author of Corporate Executive Protection – A Manual for Inspiring Corporate Bodyguards and president and CEO of International Corporate Executive Protection Ltd. Doc has earned a Ph.D. in Security Administration from Southwest University and he is SE Asia's leading expert on executive protection and corporate security.