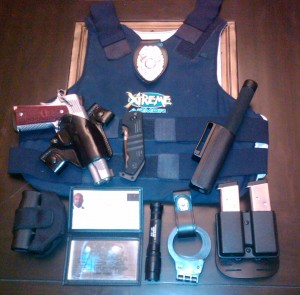 By Doc Rogers
This article will assist bodyguards to understand the commercial side of the business and give them some common sense suggestions on how to avoid becoming a victim of potential unethical business practices in the industry.
Contract: The bodyguard and client should agree to and sign a contract before each assignment.  They must ensure that procedures are inplace to guarantee that the contract is up-held by both the client and the bodyguard and that all payments agreed upon are made.
Attorney: Hire an attorney to write you a professional contract. Don't use a client's contact because most contracts that clients provide are not very good for the bodyguard. Use an attorney to write up the contract in your favor. Retaining the services of a good business attorney is not cheap and should be viewed as an investment. They protect the interests of bodyguards.  One of the most important aspects of the contract is to ensure the bodyguard gets paid what he agreed upon with the client before he starts a bodyguard assignment. Be smart hire an attorney to safe guard your interests and ensure that everything is legal and absolutely clear prior to entering into a contract with clients.
Independent Contractor: Many firms retain bodyguards under exclusive contracts. These contracts can range from one day to multi-year professional relationships. However, the majority of service contracts with independent bodyguard contractors are for a one year term. Payments for bodyguard services are usually made by weekly installments consistent with the bodyguard firm's regular payment procedures.  If you hire independent contracts let them know up front that they will be paid $XX base salary, which will be paid weekly, in the amount of $XX.XX.
Bodyguard Recruitment: If you are a bodyguard businessman you must ensure you retain only highly trained and motivated independent bodyguard contractors, whose compensation is tied to the revenue that they help generate on bodyguard assignments. As a bodyguard businessman you must continually seek to identify, recruit and develop additional independent bodyguard contractors for your business.
Sub-Contractor: Nowadays being a sub-contractor is the norm in the bodyguard world. The danger arises when the bodyguard sub-contracts unknowingly with a fly-by-night security company.  These types of security firms give checks to bodyguards knowing they have insufficient funds to pay for professional services rendered. If sub-contracting with a newer security firm, make sure the contractor has placed enough money up front before the assignment starts to insure that all the bodyguards get paid.
Workers' Compensation: Bodyguard who work as independent contractors need to realize that in the event of physical injury arising from professional activities they are not entitled to any workers' compensation coverage or similar benefits for injury, disability, death or loss of wages. The bodyguard can't make any claim against the bodyguard firm for such coverage or benefit.  It would be a wise move to get independent contractors' health care coverage from your local your health care provider.
Pay Make sure you get paid as much as possible for your professional services; get paid what you are worth. Hopefully you'll hold onto some of the cash you've earned after your short bodyguard career is over. You don't often hear of the sad stories of well-respected bodyguards of yesteryear now living in trailer parks on government subsistence. But it's a gloomy reality for some.  This is a cautionary tale; don't squander away all your money and sound financial planning is the order of the day. In the bodyguard trade there's only a small window of economic opportunity; save as much as possible when you are in the prime of your bodyguard career.  Keep safe and God speed.
Doc Rogers has been the "Go To" person for executive protection and secure executive ground transportation in Southeast Asia, India and Pakistan since 1991.  Visit www.icepltd.com for more information.