Elijah  Shaw is the President and CEO of Icon Services Corporation. Entering into its 10th year, ICON is a full service, security and investigative agency, specializing in Executive and VIP Protection. With 15 years in the industry, Elijah's company services corporate executives as well as celebrity clients which have included Usher, Naomi Campbell, Michael Bolton, and rap star 50 Cent. With tours of duty that frequently take him across the globe, Mr. Shaw acts as a personal bodyguard to these artists providing close protection and security consultation and staffing worldwide.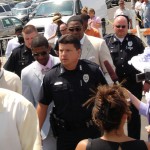 Elijah has received advanced bodyguard and executive protection training from prestigious associations such as Trojan Securities International (TSI), R.L Oatman and Associates (w/ASIS), and Elite Protective Services and currently acts as an guest instructor with TSI teaching a course on Celebrity Protection.
BGC: It is interesting to note that you don't have a military or law enforcement background. What drew you to the Executive Protection industry?
ES: I "stumbled" into this work. It was something I was doing to pay for college. I took a job working as a nightclub security guard (bouncer) to pay for college. I wasn't the biggest guy in the group, but I had an innate ability to talk to people and manage situations. Because the owner liked me and I had the right attitude I worked my way up from the back door guy to the Head of Security.
BGC: What was the very first "celebrity" detail you worked?
ES: It just so happened that a celebrated sports figure owned the club, Well, after working my way up through the club, the owner would put me on personal details. He had alot of interaction with the public, so he didn't want that "tough-guy security" approach. He needed someone to finesse sticky situations and I had good problem-solving skills. Once that assignment came to an end I was basically back at square one. I knew it was important to be well-rounded, so I worked every aspect of protection you can think of; uniformed security guard to undercover department store theft prevention – Anything to gain further training and experience in the security industry.
BGC: What was the worst mistake you ever made on a security detail? (Behonest! Our readers learn from the missteps of the seasoned pros!)
ES: I remember working with this guy who I thought was really nice and had great credentials. His background was in law enforcement, and he was very personable. I had a celebrity detail come up that I couldn't work, so I thought I'd give this guy the opportunity. When I called the client the next day to see how it was working out, she said that he was nice, but at the star-studded event they attended, he would make the client stop so he could have his picture taken with celebrities!! He was completely star-struck. I was on the plane that night to replace him. The thing that's important to remember with these celebrity clients is that they don't want to "notice" their bodyguards. They just want to go to an event and enjoy themselves and should almost forget you are there. There are a lot of guys out there who have an impressive resume, but their personality needs to fit with the client–and you have to earn their trust. I learned that the right person for a celebrity detail can't be found just by looking at an impressive resume -They have to have the proper mindset to work with a figure in the public eye.
BGC: How has Bodyguard/Executive Protection work changed from "back in the day" when you first started?
ES: The industry has become far more professional, with a great deal of emphasis on training. It used to be rather "loose" in the way an employer would hire a bodyguard. There was a time when the only qualification for a bodyguard was being either a big bouncer from the club, off-duty cop or retired Navy SEAL. It is more "formal" now–including the terms. Executive Protection Specialists is slowly replacing the term "Bodyguard". But the majority of the public still uses and knows the term "bodyguard" so it's important for us to make sure we continue to disprove the misconceptions. Quality training is preparing people in an entirely different way, which I think it's great for the newcomer. One important thing to remember is that a lot of times guys think previous military skills or law enforcement skills are ALL that's needed to make it working with the private sector. Many times the great skills just don't fully translate to actually working with executives or celebrities hence the need for specialized training.
BGC: Have you personally worked with or seen many women in the field?
ES: Unfortunately, no! I strongly urge women to get into this field. Executive Protection is something of a niche market-the majority of the industry is made up of white males; however clients come in both genders and are as diverse as the colors of the rainbow. A lot of clients want their bodyguards to "blend in" and that means there is a need for different types of bodyguards…a woman in this line of work is unexpected, so the ability to "blend in" is very high–and being female makes you unique in this business, so business savvy, well trained women could conceivably charge higher wages. Also, for certain types of details, especially those involving kids, women are often just a better "fit" than some big burly guy! I remember one time, I was working for a female celebrity client, who had a verifiable security concern but loved to shop, and one of her favorite stores was "Victoria's Secret." When she was in the dressing rooms, women would approach me and ask for my opinion on their lingerie choices! The sales staff would often think I was her spouse and ask if a particular item was of interest to both of us. *embarrassed.* That is an instance where it would have been better for her to have a female bodyguard. It probably would have drawn less attention.
BGC: What advice do you have for new people who are trying to break into the industry?
ES: First, focus on getting good training. This is a good time to be in this business, the public is aware and in-tune with what we do and the importance of protection. Research and receive training from a recognized school and hit the pavement hard looking for work. And most importantly, network, network, network. Once the overseas security contractors return–they'll be throwing their resumes in the ring, too. Secondly, be willing to start at the bottom. I cannot tell you how many guys think they're going to be landing the top client gigs and earning the top dollar right from the start. It doesn't work that way. Be patient. Be well-rounded in your skill set.
BGC: What is a typical day like for you when you're working a celebrity detail?
ES: Every day is different. I can say that you are up before the client, and asleep after the client every single day. For example, if the artist has a 6:00 a.m. radio interview, then I am up a few hours before getting myself ready, doing advance work, planning the logistics for the day's schedule, organizing the rest of the security staff, getting the cars prepped, making sure the household staff has the artist awake and ready to go …and this is all BEFORE I'm even interacting directly with the client! Lunch is always when you can fit it in…as is getting to the restroom. There is always a "hurry up and wait' aspect to what we do. We have to be on duty sometimes on very little sleep, or when not feeling well. We stand outside of a lot of doors when there's nothing going on. There is a lot of "down" time, but we have to always be at the ready–we have to be on our A-Game if something happens that we need to handle.
BGC: What is the biggest misconception about this industry?
ES: The young people, the "MTV Generation," expect to start at the top working with celebrity clients. I've also found that a lot of people get into this for the wrong reason, thinking it is a "stepping stone" for their personal career aspirations (musicians, actors, writers). A bodyguard's agenda MUST be about protecting the client–any other agenda always shows–they can't hide it…and so they either never get the job, or lose the job.
BGC: What was the worst detail you ever had to work?
ES: Truthfully, I've come to realize that every detail is a learning experience. I WANT people to experience lousy details so they will really appreciate the good ones! I do recall at one point I was working for a big celebrity. It had been a very hectic day, a 20-hour day. The client had been partying for the last 4 hours of it, and of course, fell into bed at the hotel we where we were staying. Well, I was exhausted beyond belief and so relieved the day was over…I figured I'd finally catch a few hours of sleep. Well, since I was the low-man on the detail (the newest, least experienced) I was assigned the first watch outside the celebrity's hotel door. Mind you, it was early, early in the morning. The hotel was completely quiet, and I had to stand outside this door (no chair). But here's the thing–I didn't complain. I didn't gripe. I didn't fall asleep on my feet. When they came to replace me, I was where I should be, on my feet and awake. Exhausted–but awake. That's called "paying dues." And here's the thing, that was my first time on that detail–but it was by no means my last. Because of my attitude and willingness to carry out the low-man duties, I got to work again–and next time, someone else was the low-man!
BGC: Why are bodyguards always portrayed wearing sunglasses?
ES: (Laughing) I always wear my sunglasses. For me it is a "branding" thing, especially when travelling with an entourage. It plays into the public's perception of what a bodyguard is. Put me next to 5 other people and you know who the security is. It also means that service people will know who to speak with and won't bother the celebrity or his/her friends. They know to talk to me about making arrangements to get the group around safely and who is wrangling the vehicles. Plus if you are a troublemaker, you might think twice and go to a "softer target"–The one without the guy in sunglasses nearby.