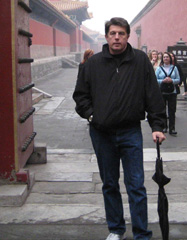 John Sexton has over 20 years of experience in law enforcement and security, both in the United States and abroad. He's written numerous articles on security-related topics for international publications, and Sexton Executive Security provides services and training for government agencies and Fortune 500 companies. John recently traveled to China, the Middle East and India and he's planning executive security training programs in Beijing, Shanghai, Saudi Arabia and the U.A.E.
BGC: How did you get started in the Executive Protection Field?
JS: Actually I can still vividly recall the first E.P. detail I ever worked. It was in the early 80's in Ireland and I was assigned to protect a judge who was sitting on the bench trying a Terrorist (Offenses Against the State Act) case. At that time our terrorists thought nothing of assassinating a judge in order to have a case halted. It was their way of getting an adjournment.
I was a uniformed Police Officer and the job needed to be done by a plain clothes officer. That morning when I reported for duty, the Station House Sergeant told me to go home and change into "civvies" as I would be protecting the judge. I went down to the Judge's home where we had a temporary trailer parked for the duration of the trial. The officer I was relieving handed me an old Webley revolver and a lozenge can which contained a handful of bullets.  Thankfully the terrorists didn't show up during my shift as I am quite sure that my weapons (probably dating back 60 years to our civil war) wouldn't have even slowed them down as they were typically equipped with Armalite Rifles and Semtex when they were activated for a mission.
BGC: Who are your typical clients? Celebrities, executives, political figures?
JS: We have celebrity, executive and political clients at times. The majority of the time though, our clients are executives.
BGC: What factors should new people who are interested in getting into this field consider?
JS: I believe that new people should first of all ask themselves why they want to enter the executive protection field.  If it is to "get rich quick," then it is for the wrong reason.  Newcomers need to investigate what it will take for them to pursue their goal. They need to be prepared to make the sacrifices associated with this career; investing in the initial training and then continuous, on-going training; working long hours; missing out on holidays, family occasions, etc…
BGC: What is the biggest misconception about this industry?
JS: There are quite a few misconceptions, both on the part of clients, and also by those interested in getting into the industry. One of the misconceptions clients have is that they need to be protected by an off-duty Police Officer. I very rarely assign off-duty Police Officers — on the rare occasions that I do, they must be properly trained — either by the Secret Service or a reputable E.P. training school.
Another misconception held by people looking to get into this profession is that their initial training investment will never be recouped and they need to find a cheap course believing it will be comparable to that of a professional training school. The simple fact is "You get what you pay for."Lastly, many still believe that this is a "men only" profession and nothing could be further from the truth. My plans for 2009 include recruiting women to get more involved in training – both as students and instructors.  My business trips to the Middle East during this past year have shown me first-hand how successful female agents are in their assignments working with Middle Eastern families.
BGC: How has Executive Protection evolved over the past 25 years?
JS: I would be inclined to say that it has benefited from more professional training. At the same time, certain segments do not seem to have changed or progressed that much at all. By this I mean the entertainment industry in particular. Those who still hire a protector based on size alone or the fact that they both are from the same city or neighborhood, does little to further our professional cause.
BGC: Can you share both your favorite and least favorite aspects of working in Executive Protection?
JS: My favorite aspect of this work is being able to see the comfort and peace of mind that our services can bring to a troubled client. We were called in to protect a television personality from a stalker in the recent past. When we first began working with this celebrity, it became obvious how much terror the stalker had caused. The client's life had become intolerable. After a few weeks working with us, our client's whole demeanor changed and life became enjoyable again.
My least favorite aspect of the business is the knowledge that there are individuals who are so ethically challenged that they have no business serving in this honorable profession.
BGC: What was the worst mistake you ever made on a security detail? (Please be honest, the new people learn so much from the errors of the seasoned pros!)
JS: I would have to say that it was related to the issue above, regarding ethics. I have hired (and worked) with people on details based solely on their association with a certain training school and blindly believed that they could be trusted and relied upon when the direct opposite was the case. After getting burned a couple of times, I learned that you need to hire slow and fire fast.
BGC: What has been the most dangerous or challenging situation you've handled while protecting a client?
JS: The absolute most dangerous would have been when I was overseas working in a war zone in the former Yugoslavia. A gunman attacked and killed one of our people when they were exiting our compound unaccompanied. He then back-tracked and returned to the murder scene. It was a "secondary attack aimed at the first responders" type of scenario. I was bending over the gunshot victim, checking for signs of life, and when I looked up I saw a man walking towards us with an AK47. Everything felt like it was moving in slow motion after that, but thankfully I was able to give warning, and the group managed to dive for cover. The killer was apprehended by the local militia a short while later.
BGC: What accomplishments or achievements are you most proud of?
JS: That is a difficult one to answer. If my book was already released and on the book shelves, I would say that was my proudest achievement.
BGC: Tell us a little about your book!
JS: It's called "How to make a Killing as a Bodyguard."It's practical advice on everything related to becoming a successful Personal Protection Specialist – from the beginning stages and the importance of training through how to get your first detail, networking and increasing your personal, professional equity. It contains a lot of real stories – not war stories but stories that highlight the pitfalls that new people need to avoid and how hard work and determination pays off in the long run.
It will be available early 2009 at Barnes and Noble, Amazon, etc., and I will be selling it from my website also. It is the first in a series of books about operational security and the business of security.
Right now, I would have to say I am very proud of the team of instructors that I have brought together for our E.P and advanced firearm training courses and the program that we have constructed. I truly believe that we, the various instructors and operators in the industry, have the ability to raise the bar so that the general public can learn and appreciate the dedication and professionalism required when quality people commit to this profession.
Sexton Executive Security ( www.sextonsecurity.com ) still has some seats available in there PPS course to be held in sunny San Diego from 12/7 – 12/13/08. There course is certified by the Dept. of Criminal Justice Services and successful graduates will be able to apply to become registered as Personal Protection Specialists.
To request more information or a registration form, please e-mail; training@sextonsecurity.com