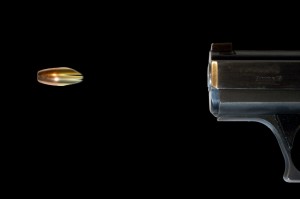 By Bruce Alexander
Officer.com has an article by Steve Denney entitled "One-Handed Shooting; Another critical and neglected skill" with a very valid application to Executive Protection. One of the points Denney makes in his article is that sometimes you have to play the cards you're dealt and if that means shooting with only one hand, so be it.
There's plenty of situations in Executive Protection that shooting with one hand is a very real possibility, notably when you are trying to move your principal during an attack. In fact, you are far more likely to have to shoot with one hand in Executive Protection than most other situations.
If you are responsible for providing "body cover," then instinctively you reach for your principal and start to move, if that's an option. However, if you are on a small detail where there isn't the option of leaving your principal to engage the threat, shooting while engaging and moving off the "X" with your principal in tow, might be your only choice. Like Steve Denney says the time to learn to shoot with one hand is not when the shooting starts.