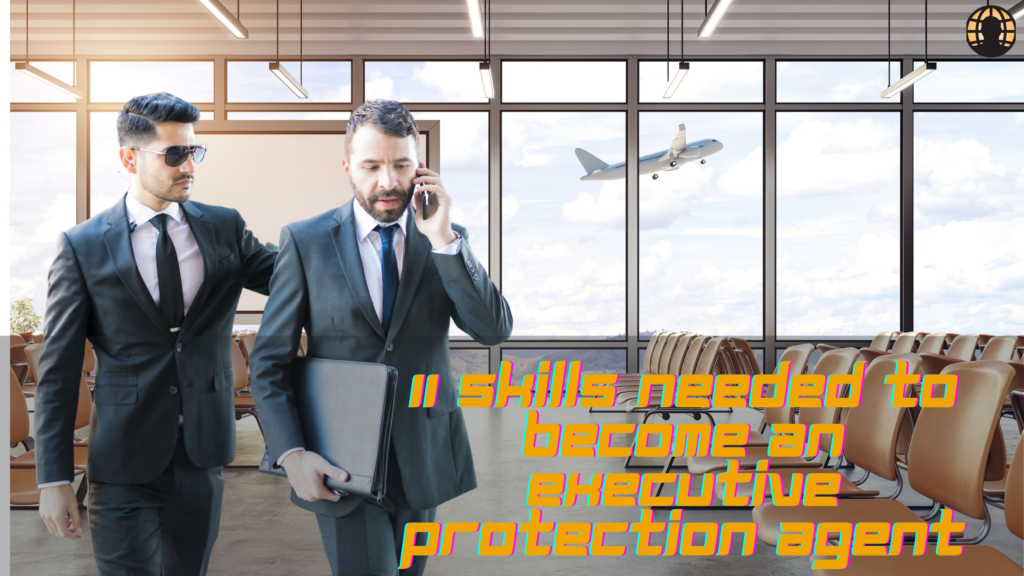 Requirements for Becoming an Executive Protection Agent
Executive protection is a career path that requires a specialized skill set. But before you jump into this niche, ask yourself if you really have what it takes to become an Executive Protection Agent (EPA).
Here are eleven skills you must have to be a successful Executive Protection Agent.
1. Communication: The most important ability for executive protection agents is the ability to listen and communicate effectively with people in a variety of settings.
You need to be able to read body language, understand how words are interpreted, and speak clearly so you can express thoughts or convey information.
2. Tact: Tact is a huge part of the job. An Executive Protection Agent's primary goal is to keep their client safe.
This means that certain situations require diplomacy. Keep your cool, and think about what your first move will be if you encounter an assailant or dangerous situation.
3. Decisiveness: This skill can go hand-in-hand with tact and communication skills, but an EPA must know when and how to make a decision under pressure.
Not all situations are going to be appropriate for negotiation; an EPA has to know how to react in these situations as well, especially when their client's safety is at stake.
4. Confidence: A client is relying on you to get the job done, and you must be confident in order to succeed.
In a life and death situation, confidence can be a key to success as an Executive Protection Agent.
5. Resourcefulness: An EPA's job is highly specialized; they must know how to find information quickly.
As EPA you can't depend on other individuals to have the answers that you need, so it is vital to develop an ability to think outside the box and connect the dots in order to find solutions.
What it takes to be a Close Protection Specialist
6. Intelligence: This sounds like a no-brainer, but An EPA needs to know how to think critically, problem-solve, and use their knowledge base effectively.
They cannot become complacent, as one wrong move could lead to the death of their client. Since a lot of information is available online, and EPA may not always need a book in hand. Thinking quickly can save lives in this job.
7. Ability to Handle High-Pressure Situations: In any situation where there is a threat, it is considered high-pressure for an EPA.
They are responsible for the safety of their client, and the security of a client can be compromised very quickly.
An EPA needs to be able to handle high-pressure situations so they will be more likely to succeed at their job.
8. Preparation: The likelihood of an Executive Protection Agent encountering a situation is not always high, but because of the nature of this job, and EPA should be prepared when it occurs.
In addition to being mentally prepared, and EPA needs to know how to react in certain situations and have a plan ready to follow if they encounter something unexpected during their day.
9. Intuition: When a situation is going down and an EPA is faced with making a decision, they should "feel" it.
This intuition will help them decide how to proceed. An Executive Protection Agent's intuition can help them make the right decisions and keep their client safe.
10. Commitment: Commitment is vital to the job of an executive protection agent. It is nearly impossible to excel in the executive protection industry unless you are totally committed.
A lack of commitment could affect the privacy, productivity, and protection aspects of your work.
11. An Understanding of Social Skills: Successful executive protection agents are detail-oriented, patient, and trustworthy.
Another huge part of your job is creating relationships with the people you've been hired to protect.
You need to have strong social skills in order to build trust while navigating through this tricky balancing act – fostering a relationship with your clients is essential.
Final Word: While it is important to remember that there are many other skills besides these eleven essential ones, all of them must be combined in order to have the highest chance of success.
Author's Note:  There are many areas of executive protection that aren't addressed here, such as training, the ability to think under duress, making a high-speed car-to-car connection in a tight space.
However, this article covers the basics or those required for entry-level education and screening purposes.
This is an extremely vital position; one which I am very fortunate to have had the honor of serving. I hope it can help someone aspiring to pursue this career path.
Want to learn how to protect celebrities and VIPs?
The ICON Celebrity Protection Course is a 3-day intensive course that teaches proven tactics, techniques, and tips from Subject Matter Experts.
You will be taught by Elijah Shaw, Mark "SIX" James & Bob Duggan who have decades of experience protecting the world's most famous people.
This course will teach you everything you need to know about protecting high-profile individuals in today's security climate.
If you want to take your skillset to the next level, then this is the course for you!
Join us at our Colorado location July 23-25th for an intense 3-day experience with some of the best subject matter experts in the industry.
You won't find another opportunity like it anywhere else! Sign up today before space fills up!
Click here to register for ICON Global & ESI's Celebrity Protection Course today! Executive Protection Training