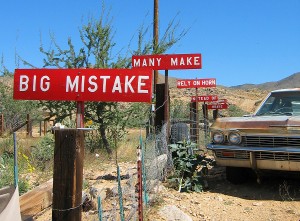 Navigating the rough bodyguard waters and reaping in the rewards can be trickier than it seems. The following are five simple, but highly important mistakes to avoid when it comes to bodyguard contracts.
1. Contracts. Not having a contract drawn up by a lawyer for professional bodyguard services. Always obtain the services of a lawyer when making a bodyguard contract, don't try to save money and do it yourself. It should spell out the exact services, personnel and equipment to be provided by you in the "Service Provision" section of the contract.
2. Client Responsibilities. Not having a "Client Responsibility" section in your contract. It should explain the client's financial responsibility and work performance such as:
•    Roundtrip airfare to area of operation for all bodyguard personnel.
•    Suitable accommodation for all bodyguard personnel.
•    Client responsible for expense reimbursements relating to food, ground transportation and dry cleaning of clothing for all bodyguard personnel.
•    Client shall allow all bodyguard personnel to undertake their activities without hindrance.

3. Fees and Payments. The most important part of any bodyguard contract is the fees and payment section. However, your contract must specify when and how you are to be paid for your bodyguard service and the legal tender you will accept for such work, especially when working overseas for foreign clients. You don't want to be paid in 500 pounds worth of ginseng or worthless currency where the exchange rate is near nothing to the US Dollar. To avoid this mistake have your lawyer include language similar to this payment example:
"To be paid USD $ 900-a-day bodyguard's fee, payable weekly, to be received in full into the following bank account (your business bank account information). Client payments are to be made by way of cash funds in the form of electronic wire transfers. The client shall pay all fees and expenses relating to this assignment without deduction of any taxes, charges or service fees and all payments are to be made in US Dollars only."  This payment fee language is used for shorter duration bodyguard contracts. For more extensive bodyguard contract work, request a 50 % deposit as explained below.
4. Fifty Percent Deposit. Many bodyguards think they will offend clients by requiring them to pay a 50 % deposit. This is definitely not true. Have your lawyer include language similar to this initial payment example: "I trust you implicitly; however it is customary that we receive a deposit of 50 %.  The duration of this agreement shall be effective from the date of receipt of the initial payment. On contract signing 50 % of the overall bodyguard fee (US Dollar amount) is immediately due and is deemed the "initial payment". Within 30 days of upon completion of the bodyguard assignment the balance of (US Dollar amount) will be due."  By avoiding these four bodyguard contract mistakes you will have a professional and profitable bodyguard career ahead. Keep safe and God Speed.
Doc Rogers is the author of Corporate Executive Protection – A Manual for Inspiring Corporate Bodyguards and president and CEO of International Corporate Executive Protection Ltd. Doc has earned a Ph.D. in Security Administration from Southwest University and he is SE Asia's leading expert on executive protection and corporate security. To learn how to make a full time living as a corporate bodyguard visit the websites below for more information.
http://www.trafford.com/Bookstore/BookDetail.aspx?Book=182707
http://www.amazon.com/Corporate-Executive-Protection-Inspiring-Bodyguards/dp/1425135927
http://international-corporate-executive-protection.com/order.asp