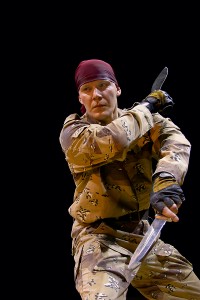 By Bruce Alexander
I'm constantly on the lookout for tactical concepts that have applicability to Executive Protection. A while back I discussed Richard Nance's "Winning in The Kill Zone" as a worthwhile read for Executive Protection. I see lots of similarity and applicability in Kevin Davis' article "The Combat Draw Stroke." Like Richard Nance, Kevin Davis focuses on a close range tactical application which when analyzed, has a direct applicability to Executive Protection. I won't try and rewrite the entire article for you since Mr. Davis does a superb job of getting the point across (therefore no need for me to muck it up with my two cents) but here's where I see the Combat Draw Stroke as applicable for the Executive Protection community:
First, quick on target. With a close-in threat, and the very real possibility of multiple assailants, quick on target is a must for Executive Protection. Not that it's any less important for anyone else, but the Executive Protection specialist usually does not have the ability to seek cover, or buy time or space by issuing commands during an assault on a principal (AOP). As I indicated in one of my earlier postings, the presence of a homicide bomber (assuming he/she has been detected) doesn't allow much time or to assess multiple options before acting. Therefore, quick on target is a must for Executive Protection.
Second, response to spontaneous attacks. Let's face it, in a crowd situation, your ability to adequately scan hands and demeanor is seriously stressed. Therefore the Executive Protection specialist must expect to confront a spontaneous attack. The standard Law Enforcement approach to escalation of force commensurate with the escalation of the threat, is usually not an option. Therefore the ability to draw in response to a spontaneous attack is paramount.
Third, draw and shoot with one hand. As I read this article I thought about the times during an Executive Protection mission that shooting with one hand might be a very real consideration during an AOP. I came to the conclusion, more often than not. One hand shooting takes on a real possibility when you start to consider the times we can be deprived of the ability to use two handed shooting given the nature of the Executive Protection assignment. One hand shooting is another one of those tactics that we must be ready to do.
Anyway, there are those who are far more skilled at this than I am but for me, this article was exceptionally enlightening.