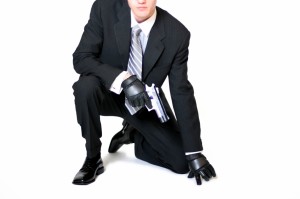 By Doc Rogers
Since almost everyone's budgets are strained and cutting back is now en vogue, I decided to write the "poor man's bodyguard guide" for those wishing to get into the industry on a shoestring budget.
Everyone's cautious about spending and with the economy being down; starting your bodyguard career in this type of environment will be difficult, but not impossible. As bodyguards we know that in tough finical times, people get desperate and the violent crime rate goes up worldwide (shootings, assaults, kidnappings, etc.) sad but true and good for business.
Entering the bodyguard trade doesn't have to be expensive or tough. With some good basic bodyguard training, you can easily get around the common challenges within the industry. You will be able setup a bodyguard program calculated to decrease the risks against your client. The main goal after your bodyguard training should be building a client base to make a name for yourself and get a professional reputation in the industry.
While your basic bodyguard training should assist you in building notoriety and conveying a certain amount of expertise, as well as providing income from the industry in the long-run, there is a price. You need to scrutinize each bodyguard academy according to its costs in both time and money. Determine whether or not the bodyguard academy will be feasible in terms of time and money constraints for your given situation. Refer to Mr. Harlan "Hucky" Austin's marvelous book Top Executive Protection Schools for a complete list of bodyguard academies.
Another way for the poor man's bodyguard to increase his training is through distance study and certification. No one can learn the bodyguard trade by distance study alone, this approach would be the initial starting point for a new agent or a senior professional obtaining continual bodyguard education for a job promotion or raise on a small budget. However, learning the actual tactics and operational procedures there is no replacement for a real bodyguard academy and professional hand-on instructions.  When choosing a bodyguard homestudy course you need to know:
•    Will the course of bodyguard study focus on your career success?
•    Upon completion of the course will you be left on your own?
•    Is the homestudy certificate worth a significant amount to clients or employers?
•    Will the training make you a better bodyguard and improve your career?
•    Will the bodyguard certificate be accepted within the industry and provide career value?
If you choose to up your credentials by the homestudy route; only go with well respected companies, with credentials issued after an examination has been administered and a grade given. Steer clear of any bodyguard diploma or accreditation mills. Judge the fitness of the bodyguard training curricula and take the time to review the company's website, so you can be satisfied you are making a fully informed decision for your hard earned money and time.
Also be sure to check if the company provides resources and services to assist students towards a successful career or career advancement upon completion of the prescribe course and passing grade. Keep safe and God speed.
Doc Rogers is the author of Corporate Executive Protection – A Manual for Inspiring Corporate Bodyguards and president and CEO of International Corporate Executive Protection Ltd. Doc has earned a Ph.D. in Security Administration from Southwest University and he is SE Asia's leading expert on executive protection and corporate security. To learn how to make a full time living as a corporate bodyguard visit the websites below for more information.
http://www.trafford.com/Bookstore/BookDetail.aspx?Book=182707
http://www.amazon.com/Corporate-Executive-Protection-Inspiring-Bodyguards/dp/1425135927
http://international-corporate-executive-protection.com/order.asp