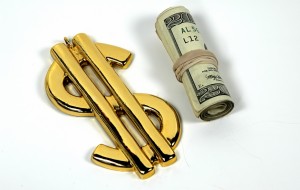 By Doc Rogers
The objective of this article is to help talented bodyguards' problem-solve their money management activities and to reach their financial goals. As bodyguards we get paid sporadically at times.  The goal is to plan an effective budget and to accumulate enough funds to survive the slow times and eventually become self-sufficient. No one is coming to our financial rescue; we need to hang tough there is no other option.
This year serious bodyguards and elite executive protection specialists will make a lot more money in the industry than in previous years.  This is the best time to get the ball rolling and accomplish something important financially with your bodyguard career.  Money management takes three of the most unglamorous things to accomplish; planning, self-discipline and hard-work.  Practice them or perish:
1. Planning. Bodyguards should efficiently plan their time, energy and money into areas of the profession that offers the biggest payoffs.  Bodyguards should be constantly asking themselves on a daily basis: "What is the best use of my time and what BG projects will be most financially rewarding?" Focus on the most important projects and activities. You must start planning business and personal lifestyle changes to reduce your overhead. You goal at this stage of the game is to earn more and save more of what you earn.
2. Self-discipline. Unlike what you see on TV bodyguards should not live a lavish lifestyle, we are not rock stars. You don't need the latest model car, drive a nondescript one instead, you don't need that Rolex, a Timex will do for now. You don't need to display a social status at this time; you need to start building a nice little nest egg for yourself.  It's time to get focused and get your financial house in order. Cut all useless spending; stop or cutback on going out to the club for a round of drinks and start tighten up your spending habits.
3. Hard-work. Now it's time to get focused and get your head into the game. Make your money management goals happen through hard-work and action. Open a savings account either at your local bank or online (http://ingdirect.com).  After every successful BG assignment tuck away $500 into your savings account. Take for example if a bodyguard goes on three well-paid BG assignments per month, that's thirty-six assignments per year, saving $500 from each assignment adds up to a total savings of $18,000. You are now taking full responsibly of your money management. Your individual savings budget may fluctuate, save a much as you can.
Your bodyguard career financial barriers can only be surpassed by extraordinary measures. Continue to significantly reduce your spending and push yourself to save beyond your normal cash saving limits.  You number one enemy is hesitation. The clock is ticking. Good luck and God speed.
http://www.trafford.com/Bookstore/BookDetail.aspx?Book=182707
http://www.amazon.com/Corporate-Executive-Protection-Inspiring-Bodyguards/dp/1425135927
http://international-corporate-executive-protection.com/order.asp