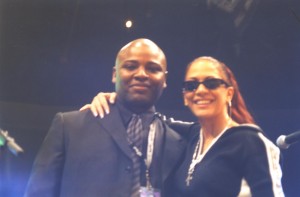 By Doc Rogers
All bodyguards dream of obtaining high-profile clients, the following are some basic tips on how to position yourself to successfully retain these types of clients.
Do your research, check public records, newspapers and magazines about big name potential clients in your area or those who visit your area on a regular basis. Be in the right place at the right time by choice; position yourself in upscale restaurants and affluent bars where the wealthy and high-profile socialize. Cigar bars are popular spots for wealthy and high-profile individuals. Take mental notes, be quiet, look upscale and  confident in your appearance. Conduct detailed observation and analysis of:
1) How did the individual arrived at the restaurant, bar, cigar bar, etc.?
A) Taxi
B) Self driven
C) Chauffeur
D) Accompanied by bodyguard
If the individual took a taxi (answer A), than you know there are particular risks involved with taxis; threat of assault, robbery or even murder. If you observed that the individual had driven him or her self to the location (answer B) you know that individual has a higher risk for kidnapping or carjacking. It is doubtful that the person has anti-kidnapping driving skills or that the vehicle is armored. If the individual has been chauffeur driven (answer C), observe an analyze the chauffeur's security skills in dropping off and picking up the individual. If the individual is accompanied by a bodyguard (answer D), take note on how you could assist the bodyguard in his duties for better protection of his client.  
From this exercise conducted over a one month period you can have a range of services to offer particular individuals: driver-bodyguard service, anti-kidnapping driving training for chauffeurs or outer ring protection services working as a team with present bodyguards. All observations must be conducted in a low profile manner. You do not want these individuals think you are stalking them.
Next, prepare some EP marketing materials (executive bodyguard and security driver service, chauffeur anti-kidnapping driving training, etc). Make sure you prepare high quality business cards and brochures. No cheap or low end business cards or brochures, present yourself as an affluent bodyguard catering to wealthy and high-profile clients. Send out the marketing materials by overnight courier service to the individuals home or office address.
Another method to use in your efforts to obtain high-profile bodyguard clients is to work or volunteer at celebrity Charity's, VIP charity dinners, fund-raisers, golf tournaments or auctions. This is a good way to start rubbing shoulders with the rich and famous. Make note of the high-profile individuals in attendance and make sure the event you work or volunteered at is mentioned on your EP marketing materials. Affluent people like to do business with those they know, are connected with or who are recommended.  Again, send out your marketing materials by overnight courier service to the individuals home or office address.
Once you obtain a face-to-face interview let it be known confidently, but never arrogant, that you will meet all the client's desires and needs with high quality bodyguard services, VIP treatment and an outstanding level of professionalism. With a little luck (and a lot of hard work) you soon will be catering your bodyguard services to the rich, famous, and powerful. Keep safe and God speed.
Doc Rogers is the author of Corporate Executive Protection – A Manual for Inspiring Corporate Bodyguards and president and CEO of International Corporate Executive Protection Ltd. Doc has earned a Ph.D. in Security Administration from Southwest University and he is SE Asia's leading expert on executive protection and corporate security. To learn how to make a full time living as a corporate bodyguard visit the websites below for more information.
http://www.trafford.com/Bookstore/BookDetail.aspx?Book=182707
http://www.amazon.com/Corporate-Executive-Protection-Inspiring-Bodyguards/dp/1425135927
http://international-corporate-executive-protection.com/order.asp