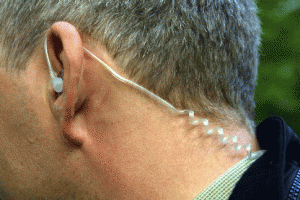 By Doc Rogers
As we enter the later years of our bodyguard careers we must be conscious of what we put into our bodies. We need to eat for health and not for taste.  We need to keep our body strong through hard exercise and smart nutrition; as bodyguards no matter their age are expected to live healthy lifestyles.
Bodyguards need to keep very fit, avoid smoking, drinking alcohol in excess and late nights. As bodyguards, especially in the later years, our eating habits should be balanced to include meat, vegetables, fruit and carbohydrates.   Yes, meat should be eaten, as it's superior to plant protein for building muscle and keeping testosterone levels high, so we don't turn soft in our mature age. Drop all bad habits: cigarettes, colas, ice cream, cake, candy; garbage in, garbage out. This holds true for the youngest to the oldest in our bodyguard clan.
We need to up our strength and cardio training; this should include long sessions on the weight pile to achieve superior strength as well as long session skipping rope, stationary biking or brisk running for high endurance.
On the job front we must be willing and able to tolerate discomfort more than the younger fallas on the bodyguard team. As elder statesmen in the bodyguard industry we have developed the mental toughness to travel 200 days a year and be locked, loaded and ready for work after 3-4 hours of sleep.  Bodyguard assignments have no time for cry babies, whiners or complainers. Sure sleep deprivation can wreak havoc on the older body and reflexes, but that's the part of the job everyone has to deal with. While on the job be here now; don't have a "back in the day" attitude. Trade-in your old model for a new one.
While on bodyguard assignments don't be a lone wolf, BG requires a combination of ability and the willingness to communicate with teammates. Learn from the new school; let the younger members of our bodyguard clan teach the old dogs new tricks, the high-tech and modern advances in the bodyguard field.
As old dogs we should lead by example and show the younger fallas some old school methods of BG from the "golden era." As older bodyguards we should still be growing stronger, learning everyday and become smarter; if we become sluggish, our shelf-life in the industry will expire. Keep safe and God speed.
http://www.trafford.com/Bookstore/BookDetail.aspx?Book=182707
http://www.amazon.com/Corporate-Executive-Protection-Inspiring-Bodyguards/dp/1425135927

http://international-corporate-executive-protection.com/order.asp