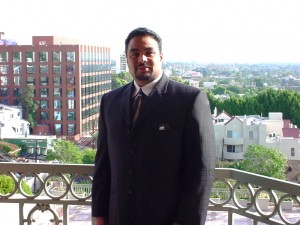 Are you getting restless with your mundane existence and bored with your present job? If so the first and most rigid rule to follow is training. You cannot expect to become a bodyguard unless you are skilled and trained. There is absolutely no chance to enter into this field being untrained and inexperienced; there are no exceptions.
However, BG training is one of the most pleasant memories you will ever have in the industry. While at the academy get good grades in all the courses as its an indication of your BG intelligence and shows your capacity for self-discipline. Don't take it lightly.
After successfully graduating from the academy you may think you are on your way to exotic places to bodyguard famous people and make lots of money. Don't get your hopes up to quickly. It will take a lot of work to achieve upward mobility in the business. This is the reality you have to live with.
Upon BG graduation the reality of the trade descends upon you; you need to get a job to feed yourself and pay the bills. Now is the time to take a good inventory of yourself and to formulate a good plan of attack.
Draw up a "Skill Sheet" and list every skill you have as it relates to the BG field. If you don't have any additional skills now is the time to get specialized. Here are some examples:
•    If you will be working by the ocean and may be guarding your clients at the beach – get certified as a lifeguard.
•    If you plan to guard your clients while snow-skiing – take skiing lessons.
•    If you know how to jet-ski – list this on your BG resume.
These are some example additional skills that will help "sell" your services within the BG market, as well as your credentials based on your training from the academy. The BG industry is a demanding business that requires a working knowledge of a wide range of skills from security driving, medical procedures to Martial Arts and shooting skills. Get as much education as possible; there is no room for the untrained or uneducated.
After obtaining the additional training based on where you will be working and your circumstances your resume should look extremely professional. Now you will have to find work where the jobs are; so you can start working your way up to the upper echelon of the industry over time.
Here is a list of Asian countries that have bodyguard opportunities:
1. Philippines: Lots of work; brutal competition, can make a decent living. Clients tend to go with seasoned veterans.
2. Hong Kong: Limited work here, work is often assigned to a small percentage of bodyguards, good place to gain international BG experience if you can find it.
3. Pakistan: Certain amount of work here; bodyguards need the right qualifications with reputable in-country connections, somewhat dangerous at times.
4. Malaysia: Fair amount of work; however only a small pool of regular clients requiring BG services.
5. Thailand: Slim pickings here; most BG do auxiliary work while waiting for the unpredictable assignment to come in.
The five listed countries are excellent places to get international experience and gain a professional reputation. They provide golden opportunities to gain exposure in the trade. A bodyguard who has a successful year or two in Asia and returns with good experience will certainly find work in the United States.
There is no easy road to follow; you need to be prepared and be patient for your opportunity. The suggestions and advice in this article can open doors in the bodyguard industry, It's up to you to go for it. Good luck and god speed.
http://www.trafford.com/Bookstore/BookDetail.aspx?Book=182707
http://www.amazon.com/Corporate-Executive-Protection-Inspiring-Bodyguards/dp/1425135927
http://international-corporate-executive-protection.com/order.asp