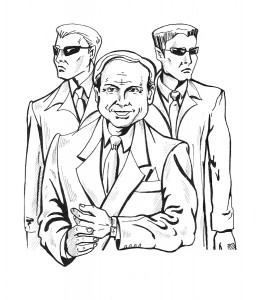 By Doc Rogers
As more people enter the bodyguard industry from all walks of life, there tends to be a section of individuals who are only book smart or academy smart and are not aware or have an understanding of the world.  Street smart bodyguards on the other hand maintain good common sense and know how to avoid bad situations before they happen. They possess the skills necessary to operate in most environments and do so with confidence.
This does not mean street smart bodyguards are not well-educated.  They are mostly academically smart individuals.  But ones that have an advantage of an additional street education; they may have received their street education growing up in bad neighborhoods or by former occupations where they dealt with unpleasant people on an everyday basis.
How You Can Help How can street smart bodyguards teach teammates who are only book smart or academy smart to deal with the real world on assignment?  Although street smarts are a set of characteristics that take years to fully develop, you can start teaching your fresh out-of-the academy or relatively naïve teammates the following recommendations.  It will take time and dedicated effort, but will be well worth it.   Risk and Consequences When on assignment in unfamiliar operational areas teach them not only which areas to keep away from, but also why.  Let them know what may be waiting around the corner so they can effectively avoid potential trouble.
Intel Keep them informed of what's going on in the operational area and how it may affect the security level.  Teach them to observe, listen and understand the environment they are working in. Remind them that being street smart is knowledge of the operational area and all information should be taken seriously.
Neighborhoods  Brief them on the people in the operational area and what to expect when dealing with them. This includes the risks they present and how to avoid them. Inform them to become acquainted with the common problems in the neighborhood, the ins and outs of the locale and to understand the people in general. This will assist your teammates with making the right decisions and how to deal with different situations that may arise.
Support Support the new BGs on your team who have lived sheltered lives and know little about the real world. Share your intelligence, common sense and wisdom with them. Give them the skills necessary to handle circumstances and avoid bad situations. Have the ability to subtly mentor and teach them to function professionally within a team environment. Show them how to improve their mental toughness, obtain a winner's mindset and up their street IQ.  Keep safe and God speed.