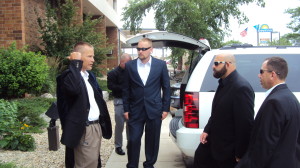 Building a Good Foundation: Credibility in the bodyguard industry means when you make a promise you keep it. Your loyalty and trustworthiness has been tested and you passed with flying colors. You have established some type of proof or evidence that you can be trusted with providing bodyguard services for your own clients and support services for your colleague's clients as a behind the scenes support man. If you are just starting out in the bodyguard trade start building a good foundation for your professional credibility. A handshake and your word should be your bond and honor.
Building an Impeccable Reputation: Build an impeccable reputation for yourself by being available to plan, coordinate and execute bodyguard assignments. Become the go-to person within your operational area for providing bodyguard resources (well-trained bodyguard personnel, security drivers, halls and walls personnel and late model executive vehicles). Being able to prepare essential components for bodyguard assignments and assisting your colleague is the fast-track for building professional credibility.
Being Task-Oriented: Sure being a professional bodyguard does have its privileges, but to get to that level of credibility you need to thrive on being task-oriented, preparing written plans, schedules, setting priorities and sticking with the objectives. You have to view your future in the bodyguard industry positively by always asking colleagues "how can I be of service to your team." Be a problem-solver, help associates overcome bodyguard assignment frustrations and alleviate professional anxieties with your admirable support services and resources that you have built.  Be the go-to guy who is a mixture of strength, humbleness and maturity with a sense of mission. Start developing professional relationships with people of influence in the bodyguard industry. Never ask them for anything, always be willing to give.
Backbone & Hallmark of Professional Credibility: Be a man of honor, one who is hard working, with a no-nonsense, take-charge attitude; be consistent and reliable with everything you do during your bodyguard career, as this is the backbone and the hallmark of professional credibility.  Remember the mental aspects of building professional credibility as well. Have the mental toughness to keep cool and calm and in control in stressful situations, keeping your self-control and maintaining a focused mind under pressure. Do these thing and your will become a formidable force by building your position as a knowledgeable and valuable resource in the bodyguard industry and watch your professional credibility grow.  Keep safe and God speed.
About Doc Rogers: He is the author of best seller Corporate Executive Protection – A Manual for Inspiring Corporate Bodyguards and the newly released eBook entitled How To Become An Executive Protection Specialist http://www.amazon.com/Become-Executive-Protection-Specialist-ebook/dp/B00AAIFW32   Doc is president and CEO of International Corporate Executive Protection Ltd., has earned a Ph.D. in Security Administration from Southwest University, is a Certified Protection Specialist from Executive Security International, a decorated former veteran police officer and is SE Asia's leading expert on executive protection and corporate security.